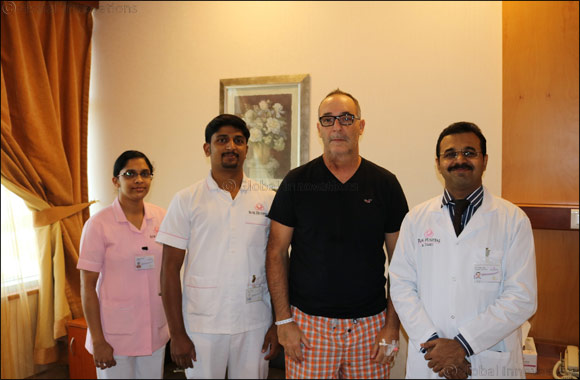 The hospital conducted its first artificial cervical disc replacement surgery
The patient was suffering from severe wear and tear in the vertebrae and slipped disc, felt excruciating pain and numbness in his upper arm
July 5, 2017; Ras Al Khaimah, UAE: Fifty-four-year-old Tracy Anthony, an American national, came to RAK Hospital emergency with excruciating pain and numbness in his right upper arm along with a tingling sensation throughout the arm. He had been suffering from pain in his right shoulder for eight years, but had dismissed it as a sports injury, opting for pain killers, chiropractors and physiotherapy sessions, but to no avail. A teacher in a school in Ras Al Khaimah, the situation was making it difficult for him to perform his professional duties properly so when the condition worsened, he decided to seek medical intervention at RAK Hospital.
An MRI test revealed that Anthony had severe cervical spondylosis – an aggravated 'wear and tear' of the vertebrae and discs in the neck, resulting in herniated disc or slipped disc. He was referred to Dr Tinku Jose, Specialist Neuro Surgeon at RAK Hospital, who suggested artificial cervical disc replacement surgery as treatment. This was the first time that this kind of surgery was being done at RAK Hospital.
"As we age, our vertebrae degenerates and the spinal disks in our neck dehydrate and shrink, leading to osteoarthritis. The edges of the vertebrae often develop small, rough areas of bone called osteophytes. This is called cervical spondylosis," explained Dr Jose, "In this case, the degeneration had led to cracks in the vertebrae resulting in bulging disks at two levels, which pressed on the spinal cord and nerve roots – necessitating the need for surgical intervention.
"We opted for artificial cervical disc replacement instead of the traditional anterior cervical discectomy and fusion (ACDF) which involves removing a damaged disc, because the former allows full movement of the neck after recovery. Moreover, with this surgery, there is no question of bone grafting or damage to natural vertebrae, no need for post-op long-term cervical collar and a reduced risk of adjacent segment disease. More importantly, the recovery time is very little, and, in fact, Mr Anthony was up on his feet within a few hours of the surgery. However, a proper case selection and a detailed screening of patients for any additional diseases is essential for achieving a good result," added Dr Jose.
Cervical spondylosis is generally asymptomatic, and when it does manifest itself, it is typically in the form of pain and stiffness in the neck. However, in severe cases, it can result in numbness and tingling in arms, and doctors advise immediate consultation when experiencing such symptoms. If not addressed at the right time, it can lead to permanent damage and disrupt quality of life. In the case of slipped disc, the most common age for it to develop is between 30 and 50 years. The condition affects twice as many men as women.
Dr Raza Siddiqui, CEO, Arabian Healthcare Group, and Executive Director RAK Hospital, added: "It's a great feeling for us at RAK Hospital when we take on a new challenge and emerge successful. This was the first time that artificial cervical disc replacement surgery was done at the hospital and I would like to congratulate the entire medical team on the great job. It was a critical case, but handled well."
The patient, Mr Anthony thanked the staff at RAK Hospital for their efforts.
"For eight years, I was so used to the pain that I didn't know what life was without it. Thanks to Dr Jose and his team, I can now look forward to a pain-free life," he said.