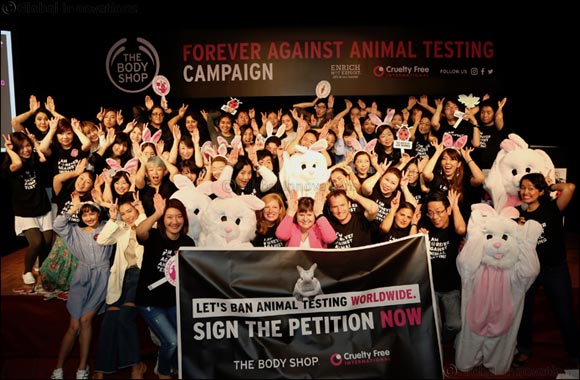 Dubai, UAE, July 5, 2017: Did you know that over 500,000 animals are cruelity tested on every year for cosmetics? or that 80% of the worls has no laws to prevent it from happening?, animal testing are outdated and unnecessary with the alternative far more effective, the problem is that people simply do not know this is the case which is why something needs to change.
The Body Shop was the first beauty company to campaign against animal testing back in 1980s with Cruelty Free International which led to an EU -Wide ban.
Today we are launching our new campaign to call for global BAN on animal testing and end it once and for all.
Will appreciate your support in this campaign by asking your readers and social media followers to contribute their support towards and sign the petition online through the link: https://foreveragainstanimaltesting.com/page/11156/petition/1 or by visiting any of The Body Shop stores in UAE and sign the petition.