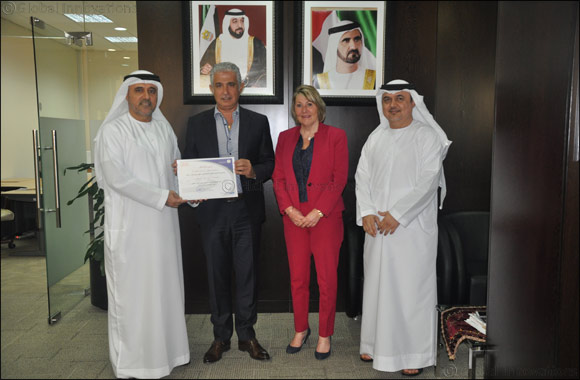 Real estate brokerage office wins gold category and seven websites awarded for contributions to Dubai's real estate sector
Dubai, United Arab Emirates, 03rd July 2017: Dubai Land Department (DLD) has honoured its strategic partners, including real estate brokerage offices and several websites.
Yousif Al Hashimi, Deputy CEO of the Real Estate Regulatory Agency (RERA) – the regulatory arm of DLD – commented: "The aim of this event is to improve the efficiency of brokers in the real estate market by encouraging competition and incentivising them to provide the best services for investors and clients. This reflects our dedication to honouring all of our strategic partners and motivating them to deliver world-class services."
PK Properties was the winner of the gold category and the award was presented to manager Semaan Anotoine Saeed by Yousif Al Hashimi, and Ali Abdullah Al Ali, Director of Real Estate Licensing at RERA.
Representatives from seven websites were also honoured for enhancing the credibility of the real estate market, with a particular focus on those that have had a significant positive impact on DLD and reducing negative practices in the real estate market. The list of sites that received the award included Propertyfinder.ae, Yzerproperty.com, Realopedia.com, Propertywifi.com, Bayut.com, Listaproperty.com, and Propertybook.com.
Al Hashimi concluded by saying: "We appreciate the important role played by real estate brokerage offices and websites in enhancing the credibility of the real estate market, as well as in promoting Dubai as one of the world's leading property destinations for trust, quality and transparency."