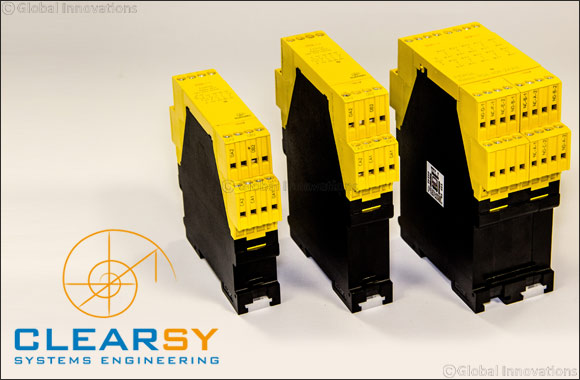 RAIL NETWORK SAFETY
The six safety vital relays developed by Clearsy France are the very first self-controlled safety vital relays guaranteeing opening of their NO contacts at a SIL4 level. Since 2016, these safety vital relays are SIL4-certified according to the EN 50129 and EN 50155 standards. Applications of these relays include Lyon (France) tram level crossing protection systems, Nice (France) tram onboard control system and Luxembourg-City tram SIL 4 signaling system.
The availability of these relays with NO contacts guarantee on opening and independently certified SIL 4 by Certifer is a first on the railway market.
We owe this new development to Clearsy an Aix-en-Provence (France)-based company, which employs more than one hundred people specialized in the production of SIL 0 to SIL4 safety-critical systems and software.
RS4-range relays are available with different control voltages, from 24 to 110 Volts. Models have 2 to 4 work contacts (NO) guarantee on opening and 2 to 6 (NC) contacts non-guarantee.
The relays are available in two formats, a DIN rail box or a 3U card; these relays provide galvanic isolation between control and contacts 'Our relays are designed for very harsh environments (-40° C to +70°C) with high vibrations and/or shocks and salt spray, in order to fit for all conditions', explains Patrick Péronne, project manager.
The RS4 range constitutes significant technological progress for onboard and/or trackside critical controls applications. 'A single RS4 safety vital relay provides in a very compact format galvanic isolation and reduces the number of contacts in safety applications by not requiring auxiliary contacts for copying. It also provides contacts able to make even with very low current an important aspect for all applications requiring an interface with " PLC ", points out Patrick Péronne.
ClearSy presented its SIL4-certified safety relay range at the SIFER French railway trade show, last March.
Technical specifications of the RS4 range
THE SAFETY PRINCIPLES OF THE RS4 RELAY RANGE:
Use of two internal relays. Each NO contact in the RS4 relay corresponds to two internal relay contacts placed in series. If a NO contact in one of the internal relays jams, the NO contact of the RS4 relay remains open.
Inhibition of the RS4 control if a contact in one of the two internal relays jams. Accordingly, it is impossible to have the two internal relays of the RS4 relay with contacts jammed at the same time.
Principle of inhibition of the SIL4 control approved by Certifer (like everything else concerned with the relay)
Internal relays with guided contact that meet standard EN 50205 (to guarantee rereading of contacts and non-overlap between work contacts and rest contacts)
Relays hermetically-sealed to guarantee that contacts do not oxidize.
Diversifying of components to remove common modes.
Impossibility of short circuits (insulation distance, hermetically-sealed internal relay boxes…)
IN ADDITION TO DESIGN PRINCIPLES, RS4 RELAY MANUFACTURE IS CONSTRAINED BY THE FOLLOWING POINTS:
PCB and assembly rule IPC 610 class 3.
Full safety and functional test on each relay produced.
IRIS-certified manufacturing plant.
Clearsy and its ISO 9001-qualified service providers.
The RS4 range
Model
Format
Width
Height
Depth
NO
contact(1)
NF
contact
Control
voltage
RS4.DIN.202.24V
DIN box
22.5
90
99.5
2
2
24 V DC
RS4.DIN.304.24V
DIN long box
22.5
90
121
3
4
24 V DC
RS4.DIN.402.24V
DIN long box
22.5
90
121
4
2
24 V DC
RS4.DIN.406.24V
DIN double box
45
90
99.5
4
6
24 V DC
RS4.3U.2x202.24V
3U card
40
100
160
2x2
2x2
24 V DC
RS4.DIN.202.110V
DIN long box
22.5
90
121
2
2
More about Clearsy
Clearsy develops and markets SIL1- to SIL4-certified safety systems. From design to commissioning, the company is unique in that it can have its solutions certified. This means that it can offer a high degree of safety and has worked on major projects in São Paulo (monorail) and Stockholm and in France with lines 1, 4 and 13 of the Paris metro. For these, it developed a control system for opening and closing the landing doors and ensuring the safe departure of driverless trains.