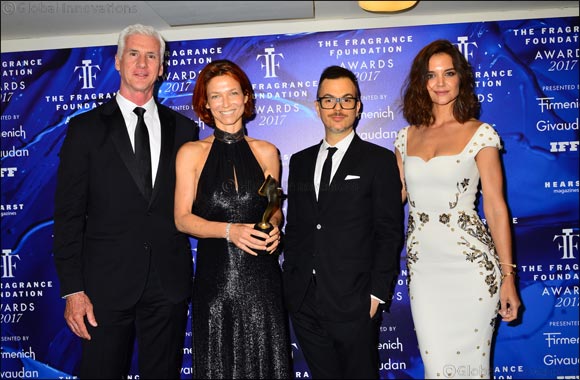 Fragrance Foundation Perfume Extraordinaire Award for Quartana Parfums' Poppy Soma
Created by Symrise Master Perfumer Emilie Coppermann and David Apel
Symrise Fine Fragrance has won the prestigious Perfume Extraordinaire Fragrance Foundation Award for Poppy Soma, a fragrance created for the Quartana Parfums Les Potions Fatales line.
The Perfume Extraordinaire award is the only award the Fragrance Foundation gives that truly celebrates the art of fragrance creation. Each fragrance house is allowed to select and submit one fragrance creation from their 2016 launches. The fragrances are then evaluated blind by a panel of olfactive experts from fragrance suppliers and manufacturers. Of the selections, one fragrance is chosen as the Perfume Extraordinaire from that year.
Symrise perfumers Emilie Coppermann and Dave Apel worked together to create Poppy Soma. Poppy Soma is a part of Les Potions Fatales, a collection that explores the treacherous beauty and intriguing lore behind nine of the world's most poisonous flowers.
Carefully crafted over the course of two years, Poppy Soma explores the treacherous beauty and allure of one of the world's most poisonous flowers: The Poppy. A floriental, smoky, narcotic, spicy amber scent crafted using Sichuan Pepper, Curry Leaf, Red Pepper, Black Gardenia, Jasmine Sambac, Red Rose, Old Church Incense, Labdanum, Tuberose, Styrax, Musk Tonquin. (www.six-scents.com/products/dark-poppy)
A portion of proceeds from sales of this fragrance will benefit the American Association of Poison Control Centers. (www.aapcc.org)
"I am excited about the creativity of our perfumers who have crafted a true masterpiece for Quartana Parfums", said Achim Daub, President Scent & Care at Symrise. "Taking home this most prestigious Fragrance Foundation Award is a true honour for us and underlines our mission to create better living through scent. A big thank you to everyone who has contributed to this extraordinary achievement!"