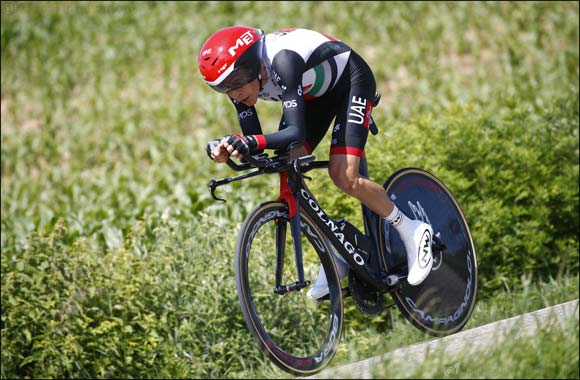 UAE colours to adorn the legendary cycling race for the first time as Team seeks stage wins at the 104th Tour de France
United Arab Emirates. Wednesday, 28 June 2017: UAE Team Emirates will tackle its first Tour de France, the second Grand Tour of the season, this Saturday with a line-up that includes both strong Climbers and Attackers, all seeking stage wins on the ultimate test of professional cycling.
Among the UAE Team Emirates line-up is South African rider and eighth place finisher in last year's Tour de France, Louis Meintjes, who will be leading the team's General Classification charge at the 104th edition of the race. Starting in Dusseldorf, the race takes place from Saturday 1 July - Sunday 23 July, with 21 stages in the contest for the famous winner's Maillot Jaune or Yellow Jersey.
This year's edition will start in Germany for the first time in three decades, with the opening time trial set to challenge the skills of the entire peloton. The Maillot Jaune contenders are set to go head-to-head for the first time on the fifth stage which will see the first of three mountain-top finishes at La Planche des Belles Filles. The remaining two mountain-top finishes - Peyragudes and Col d'Izoard - don't appear until stages 12 and 18 respectively.
The Tour de France is far more than a cycling race. This year cycling's oldest and most prestigious race will take in three countries, see two individual time trials and three mountain-top finishes. Millions will take up viewing positions along the roads for 21 days of racing, to cheer on a peloton of nearly 200 cyclists taking part in La Grande Boucle (the race's nickname meaning the 'big loop').
Joining GC contender Louise Meintjes in the UAE Team Emirates Tour de France team are eight other riders including Briton Ben Swift and Italian Diego Ulissi – both of whom will be hunting stage wins.
Looking ahead to cycling's most famous race 25 year old Meintjes said: "Last year I placed eighth overall at the Tour and I'm hoping to move up in the GC this year. I am hoping that the first week goes smoothly with no obstacles and that when the mountain stages come around my performance is as good as it was during the Critérium du Dauphiné."
Swift who finished second on Alpe d'Huez at the 2017 Critérium du Dauphiné will ride at the Tour de France for the first time since 2011. Considering his participation in this year's race he said: "This year's Tour will be different from my previous experiences at this race. I have the freedom to hunt for my own stage victories as opposed to just supporting the team. This is a newfound freedom in my career that I am excited to explore. In the past, I always worked for the team, and now I'm happy that UAE Team Emirates has put their trust and faith in me to tackle the stages that are most suited to my abilities."
Commenting on his Tour de France debut Italian Diego Ulissi said: "This will be my race debut - it is a race I have obviously wanted to tackle all my life. I am constantly looking to find new challenges in my career and want to experience first-hand cycling's oldest and most prestigious race. My objective is to try and win stages, however I am aware that this is one of the most difficult goals as everyone is trying to do the same."
Le Tour was first held in 1903 and is the oldest and most prestigious of the three Grands Tours attracting annually over 10 million spectators along the route. The race's nickname, La Grande Boucle, refers to the route taken around many parts of France which alternates each year between clockwise and anticlockwise loops. The Tour is made up of 21 stages over 23 days with two rest days in between, covering a distance of around 3,500 kilometres. While the route varies each year, there are similarities in the race format such as individual time trials, mountain stages crossing the Alps and Pyrenees and, since 1975, the Tour de France has always finished on the Champs-Élysées in Paris.
Riding alongside Meintjes at the 104th edition of the Tour de France from UAE Team Emirates are: Ben Swift, Diego Ulissi, Darwin Atapuma, Matteo Bono, Kristijan Durasek, Vegard Stake Laengen, Marco Marcato and Manuele Mori.
Confirming the line-up, UAE Team Emirates' Sporting Director Mario Scirea said: "We are quite confident with the team line-up taking part in this year's Tour especially following the good performance at the Critérium du Dauphiné. The riders are in good form and have worked so hard as a team during this last month on their altitude training on Mount San Pellegrino in Italy."
TOUR DE FRANCE STAGES
• Stage 1, July 1 - Düsseldorf 13km - ITT
• Stage 2, July 2 - Düsseldorf – Liége/Luik 202km - Flat
• Stage 3, July 3 - Verviers – Longwy 212.5km - Summit finish
• Stage 4, July 4 - Mondorf les Bains – Vittel 207.5km – Flat
• Stage 5, July 5 - Vittel – La Planche des Belles Filles 160km - Summit finish
• Stage 6, July 6 - Vesoul – Troyes 216km
• Stage7, July 7 - Troyes – Nuits Saint Georges 214km - Mountains
• Stage 8, July 8 - Dole – Station des Rousses 187 Km - Mountains
• Stage 9, July 9 - Nantua – Chambéry 181km - Mountains
• July 10 Rest Day
• Stage 10, July 11 - Périgueux – Bergerac 178km
• Stage 11, July 12 - Eymet – Pau 202km
• Stage 12, July 13 - Pau – Peyragudes 214km - Mountains
• Stage 13, July 14 - Saint Girons – Foix 100km - Mountains
• Stage 14, July 15 - Blagnac – Rodez 181km
• Stage 15, July 16 - Laissac Sévérac l'Église – Le Puy en Velay 189km - Hilly
• July 17 Rest Day
• Stage 16, July 18 - Le Puy en Velay – Romans sur Isère 165km
• Stage 17, July 19 - La Mure – Serre Chevalier 183km - Mountains
• Stage 18, July 20 - Briançon – Col d'Izoard 178km - Mountains
• Stage 19, July 21 - Embrun – Salon de Provence 220km - Flat
• Stage 20, July 22 - ITT in Marseille 23km - ITT
• Stage 21, July 23 - Montgeron – Paris 105km - Flat
HOW GENERAL CLASSIFICATION RESULTS ARE CALCULATED
All 21 stages of the race are timed. After the riders finish a stage their times are compounded with their preceding stage times. The rider with the lowest collective time is the leader of the race (General Classification leader) and gets to put on the coveted Yellow Jersey (Maillot Jaune). The winner of this classification is considered the winner of the Tour.
Remaining three main classifications include:
• The Points Classification for the sprinters, its leader wears the Green Jersey;
• The Mountains Classification for the climbers, its leader wears the Polka Dot Jersey; and
• The Young rider Classification for the best young rider, and the leader wears a White Jersey.