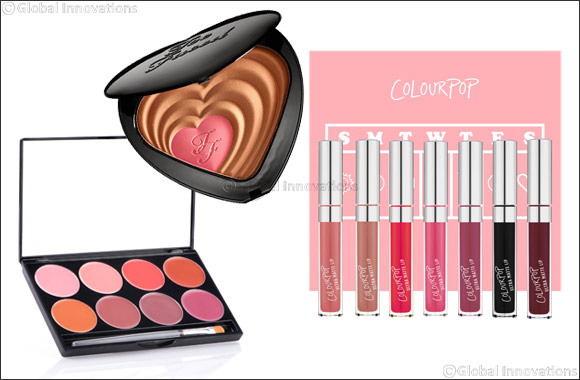 Glamazle.com, the online beauty and fashion store that caters to the lifestyle needs of the Middle East, presents the Nifty Neutral palettes and collections available on its ecommerce site for the season
From brands such as Too Faced, Sonia Kashuk, Makeup Revolution and Colorpop, these multi-use neutrals are ideal for a flawless, fresh-faced look all through the summer
An online platform with over 150 brands in the beauty, wellness, style and derma care industry to its catalogue, Glamazle.com offers some of the most sought-after international brands at the right price, with shipping across the GCC region
Dubai, United Arab Emirates, June 27, 2017: Glamazle.com, an online fix for all things beauty and fashion, introduces an arsenal nifty neutrals that are perfect for the season.
Founded by Neelam Keswani, Glamazle.com is the region's one stop store where one can find the world's leading beauty and cosmetic brands at just a click. The e-commerce website houses over 150 internationally renowned brands under its one-stop user-friendly website, and holds sole rights to supplying in the region for many of these beauty guru-approved beauty companies. Glamazle.com's collection includes international names such as House of Lashes, Jouer Cosmetics, Jeffree Star Cosmetics, Velour Lashes, Morphe, and Makeup Addiction Cosmetics among others, with a wide variety of makeup, skin, hair and nail care, wellness and lifestyle products.
Too Faced Soul Mates Blushing Bronzer - Carrie & Big: Bronzer and Blush
The power couple of beauty. This cheek-duo made in makeup heaven adds warmth, contour and a pop of color for that radiant look of true love. Wear Carrie and Big as individual pops of champagne peach blush and warm chocolate soleil bronzer, or mix the two to create an all-over glow powder for the face and décolletage.
Price: AED 191
Sonia Kashuk® Chic Luminosity Bronzer/Blush Duo - Glisten 52
This revolutionary Bronzer/Blush duo warms the skin and adds a touch of color while light-reflecting pigments perfect the surface of the skin and imparts a glimmering, refined finish. This hybrid texture combines all the best features of baked, powder, cream and fluid formula to easily blend, protect against dryness and deliver buildable color payoff that lasts up to 12 hours without fading. Use dry as bronzer and blush, or wet as illuminators and eyeshadow bases.
Price: AED 74
Mehron LIP Color Palette 8-Day
Mehron's L.I.P Cream combines a luscious, hydrating lip formulation with intense pigmentations. The effect leaves lips looking luxurious, creamy and conditioned with dramatic color that lasts all day and night. Available in variety of classic shades or in a special artist selected 8-color palette collection. Use these light and thin-textured glossy lippies as highlighting creams and cream blush.
Price: AED 275
Colourpop lip set – Moment of Weekness
A fun, vegan-friendly and cruelty-free lip set, the Moment of Weekness is a set of seven liquid-to-matte, easy-to-wear lipsticks one can wear every day of the week. The colors range for sombre neutrals for working days and berries and even a black for the weekend!
Sunday: soft terracotta
Monday: warm peachy beige
Tuesday: vivid coral red
Wednesday: vivid hot pink
Thursday: brilliant red violet
Friday: true black
Saturday: saturated blackberry
Price: AED 165
Makeup Revolution Bronze Palette All About Bronze
Bronzing or Contouring and highlighting, this amazing Bronze palette is a Mixture of matte and baked powders that stand out from the usual shimmery Bronzers on the market. Complete with a large full-size mirror.
Price: AED 53
Sonia Kashuk® Eye Couture Eye Palette - Eye On Neutral 02
Extremely blendable, with a velvety soft touch and superior color release. The core palette in the summer collection by Sonia Kashuk is comprised of your essential matte neutral shades, from warm banana colors and neutral beiges to cool browns and everything else in between! Fragrance and paraben free.
Price: AED 115
Melt Cosmetics Eyeshadow Set - Rust Stack
The most beautiful combination of shadows you can lay your eyes on! This stack is packed with FIVE, ultra-matte pigmented earth tones that double as cheek sculpting powders for contouring the face and the eyes.
Price: AED 255