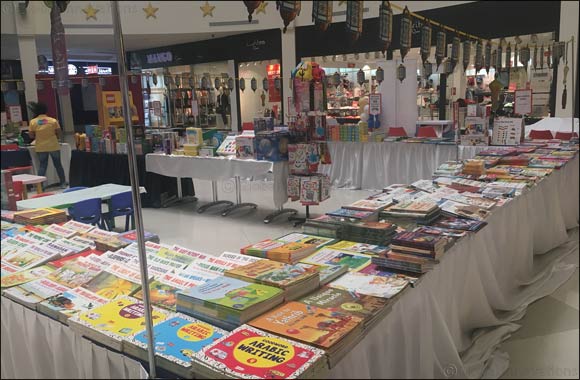 Offering up to 90 per cent off
Dubai – June 22, 2017: Dubai Outlet Mall, the ultimate value shopping destination and the first outlet concept mall in the UAE, has launched a spectacular shopping extravaganza for customers during this Eid-ul-Fitr holidays. The bargain shopping experience is combined with various other activities and competitions to be held across the mall.
Bargain deals up to 90 per cent, games, musical entertainment, magic shows and more is on offer at the Dubai Outlet Mall, bringing the best of everything to eager Eid shoppers. A special Shop, Spin & Win promotion is being held from June 16 at the mall premises, where customers who shop for AED 200 will be given a chance to spin the wheel and get a chance to win instant cash prizes worth AED 2,000 to AED 25,000.
Through the three days of Eid-ul-Fitr, the Dubai Outlet Mall will have many fun activities for the entire family. The Eid Bazaar set up at the mall will have special zones including a book fair, henna application, painting, art and craft, storytelling and jewellery making among others, creating an event that will involve the entire family. Shopping will no more be boring with so many activities that one can participate in during the mall visit.
A live, interactive Snook Ball game and an Escape game is also planned during the three days where shoppers can compete individually with other shoppers or as a family. The Escape game will see players scrambling to escape a live sized puzzle to emerge victorious. The game vouchers will be given as complimentary to shoppers spending AED 200 at the mall.
Shoppers, who register for a 'I Love Dubai Outlet Mall' activity will have a chance to win shopping vouchers every three hours.
Throughout the holy month of Ramadan, Dubai Outlet Mall has collaborated with the UAE Red Crescent on a special initiative, "Give a little, help a lot". The mall set up a donations and charity box in the premises and visitors are encouraged to donate preloved items of clothing, electronics, toys and other goods that are in good condition, to help ease the lives of the less privileged. Cash donations as well as non-perishable food items were also welcomed. Dubai Outlet Mall also offered Iftar at labour camps.
In addition to the Ramadan activities, Dubai Outlet Mall has also organized the 'Read n Learn and Have Loads of Fun' campaign geared towards young reading enthusiasts. Children are encouraged to donate books during the book collection drive and the child that makes the largest
donation, will be invited to attend a red-carpet book-signing event where they will autograph a bestselling book to inspire other like-minded readers. Fun-filled activities such as arts and craft, competitions and mascot appearances are among the many events arranged during the period that will run till Eid.
Having 240 stores and over 1,200 brands on offer, Dubai Outlet Mall features a mix of upscale and elite specialty shops and fine dining restaurants. The event will ensure a wonderful time for the mall-goers while, also offering further great discounts on top brands. A smart shopper can easily avail 30 to 90 per cent discounts on branded products ranging from clothes, shoes, lingerie, sportswear and sporting goods, watches, sunglasses and toys, every single day of the year.
Located at Dubailand, Al Ain Road (Route 66) near the Dubai Bypass Road interchange, the mall is open seven days a week; between 10 am and 10 pm from Saturday to Wednesday, and between 10 am and 12 midnight from Thursday to Friday.