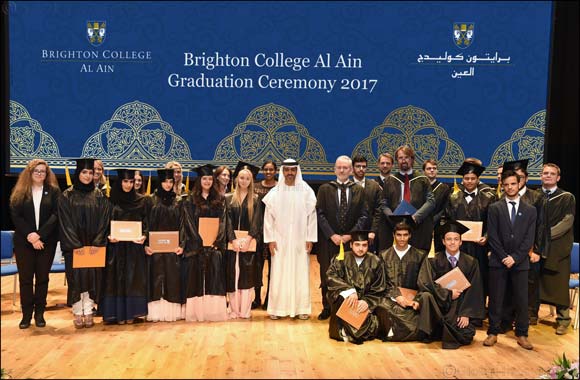 Abu Dhabi-UAE: 20 June, 2017 – Brighton College Al Ain (BCAA), managed by Bloom Education, organized the graduation ceremony of its first cohort of graduating pupils on June 15, 2017.
His Highness Sheikh Hamed bin Zayed Al Nahyan, Chairman of Abu Dhabi Crown Prince's Court and a member of the Executive Council, attended the ceremony and awarded the graduates their certificates before an audience that comprised peers, faculty and families.
Henning Fries at Bloom Education, said: "On behalf of Bloom Education we are exceptionally proud of the first graduating class at BCAA. We are confident that BCAA graduates will make their mark in the world and we wish them tremendous success in whatever path they decide to pursue."
Dr Kenneth Greig, BCAA Headmaster, said: "We are proud of our graduates, who have raised the bar for academic excellence through their dedication, hard work and perseverance. I am confident that the knowledge, skills and values they attained during their time at BCAA will enable them to achieve success in their careers and become productive members of society."
Brighton College Al Ain was established in 2013, in partnership with Bloom Education and Brighton College UK, with a goal of delivering among the highest quality education offerings and overall excellence in the UAE. Ranked Outstanding by the Abu Dhabi Education Council (ADEC), BCAA was the first educational institution in Al Ain to achieve a perfect score in its evaluation. The school has over 800 students registered for the 2017/2018 academic year.
Bloom Education, the education division of Bloom Holding, operates best-in-class schools and Nurseries in the UAE. The company affords students the opportunity to achieve their maximum potential in a positive, enjoyable, stimulating and safe environment that is conducive to their intellectual, physical, emotional and social development. Bloom Education is committed to instilling an appreciation of local cultural heritage and values, as well as the values of other cultures among all their students.