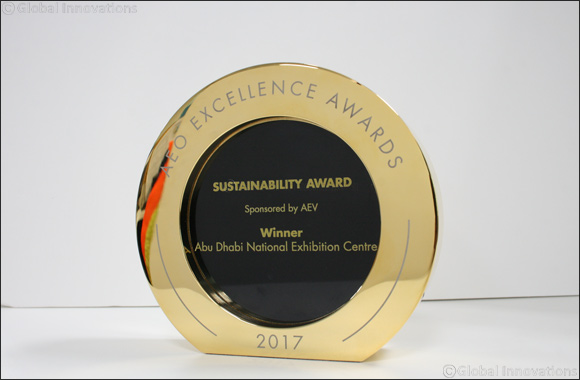 Abu Dhabi-UAE: 18 June, 2017 – Abu Dhabi National Exhibitions Company (ADNEC) has scooped two prestigious Association of Event Organisers (AEO) Awards at a special ceremony held in London.
The award recognised Abu Dhabi National Exhibitions Centre as the 'Most Sustainable Exhibition and Conference Venue' and ExCeL London as the 'Venue of the Year', confirming ADNEC Group's growing industry recognition as an international venue developer that delivers consistently excellent facilities and services to events community.
Following a record number of entries, the judging process was managed by an independent organisation and finalists were decided by a panel of 38 judges. The sustainability category witnessed steep competition between 7 centers and organisers including RAI Amsterdam, Business Design Centre, UBM, Global Experience Services (GES), the Crystal, among others. The finalists in best venue category included AEG the O2, RAI Amsterdam, the NEC, Scottish Events Campus, Olymia London, among others.
Her Excellency Noura Mohammad Hilal Al Kaabi, Chairwoman of Abu Dhabi National Exhibitions Company, said: "It is a great honour to win this prestigious and internationally-acclaimed recognition from Association of Event Organisers (AEO). The awards validate our innovative strategies and forward-thinking practices to ensure the long-term sustainability of our state-of-the-art venues and exceptional quality of services."
Humaid Matar Al Dhaheri, Group CEO, ADNEC, said: "This latest recognition is a testimony to our continued success in developing advanced event infrastructure and providing excellent services. It is an outcome of our collective efforts to deliver the very best experience possible to our customers and will motivate us to strive for even higher standards in the future."
The AEO Awards recognizes the best that the global events industry has to offer, celebrating organisers' achievements, venue excellence and service quality. The Association of Event Organisers Ltd (AEO) is the trade body representing companies which conceive, create, develop or manage trade and consumer events. It was established in 1981, and run through an elected council of representatives, specialist working groups and a fulltime secretariat.
ADNEC Group, which comprises Abu Dhabi National Exhibition Centre (ADNEC), Al Ain Convention Centre (AACC) and ExCeL London, has previously won leading industry awards for its sustained efforts in boosting the MICE sector in Abu Dhabi and offering flexible, state-of-the art and technologically advanced facilities for exhibitions, congresses and corporate events.
ADNEC Group now has 94 International awards under its belt, some of the distinctions include the Sustainability Award at Middle East Event & Exhibition Show 2017, the Sustainability Award at the AEO Excellence Awards 2014 and 2015, Venue of the Year for ExCeL London at the AEO Excellence Awards 2014 and 2015, Exhibition Venue of the Year at Event Awards, Middle East's Leading Exhibition & Convention Centre at World Travel Awards, Best Middle East Exhibition for IDEX at Middle East Events Awards, Best Meetings & Conference Centre in the Middle East for Al Ain Convention Centre at Business Destinations Travel Awards, and Best Commercial High Rise Development - Capital Gate at Arabian Property Awards.
ADNEC's flagship venue, the Abu Dhabi National Exhibition Centre, offers 133,000 square metres of interconnected floor space to meet the requirements of a wide variety of events and exhibitions. Equipped with state-of-the-art facilities and built to international standards, the venue attracted 1.5 million people across 480 events in 2016.