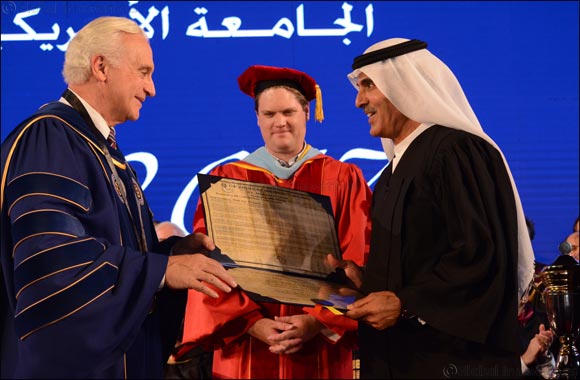 In recognition of his generous giving to support education in the Arab world
Dubai, United Arab Emirates – June 18, 2017: The American University in Cairo (AUC) awarded yesterday the degree of Doctor of Humane Letters to H.E. Abdul Aziz Al Ghurair, Chairman of the Abdulla Al Ghurair Foundation for Education and CEO of Mashreq Bank, in recognition of his dedication to transforming the educational landscape and providing learning opportunities for deserving students throughout the Arab world. H.E. received the honorary degree during the commencement ceremony of AUC undergraduate students, in the presence of 4,000 people including 634 graduates and their families, the AUC board of trustees, president, cabinet and faculty, as well as representatives from government, the private sector and philanthropy.
In his commencement address, H.E. Abdul Aziz Al Ghurair expressed his gratitude to AUC for rewarding him the degree of Doctor of Humane Letters. He also congratulated the students for achieving one of the most important goals of their life – earning a high-quality undergraduate degree. "Each and every one of the students we are celebrating today is now our region's most important resource, our strongest defense and, ultimately, our future's greatest hope," he said. H.E. shared his personal and professional experience with the graduating class and urged them to challenge the status quo and embrace change in the world of work, persevere in the face of adversity in their personal lives, and use their energy and education to begin giving back to their communities and region without delay.
Commenting on the partnership between the Abdulla Al Ghurair Foundation for Education (AGFE) and the American University in Cairo, H.E. thanked the AUC president and board for opening the university's doors to welcome AGFE students from Egypt and other Arab countries. "We share the same vision that philanthropic foundations, education institutions and others can and must come together to open access to education to those who need it the most," he said.
H.E.'s visit to AUC included a private meeting with Dr. Tarek Galal Shawki, Minister of Education and Technical Education in Egypt, in presence of Mr. Francis Ricciardone and Mrs. Maysa Jalbout, CEO of Al Ghurair Foundation for Education. The attendees discussed key topics on the agenda of higher education including the role of schools in ensuring young people are college and career ready; and the potential of innovative online learning programs in improving access and quality in education in the region. H.E. explained that the Abdulla Al Ghurair Foundation for Education is developing programs that facilitate Arab youth's transition from high school to college, and from college to professional life. On a different note, H.E. highlighted the progress the foundation has made so far in working with governments to develop new standards for quality assurance and accreditation of online learning.
In this context, Maysa Jalbout said: "We are committed to helping governments and academic institutions in the Arab region by investing in innovation and capacity development. This is why we are exploring the potential role of technology and working with some of the best universities in the world." "For example, we are working with MIT, a global leader in online learning, to make high-quality education accessible to as many Arab students as possible. Together, we developed a capacity building program for universities in online learning, which is currently being implemented at the American University in Cairo and the American University of Beirut – two leading universities in the Arab world," she added.
In a press conference that AUC organized to discuss the foundation's collaboration with the university and its educational initiatives in Egypt and the region, Mr. Ricciardone commended Al Ghurair family's philanthropic work to advance education not only in the UAE, but all over the Arab world. "Abdul Aziz Al Ghurair blazes a new trail for Arab philanthropy, built on his father's legacy and a deep family commitment to education," said Ricciardone addressing the media.
During his visit to AUC, H.E. Abdul Aziz Al Ghurair met with 40 students from the first and second cohort of Al Ghurair STEM scholars who are currently studying at the American University in Cairo or will start soon. In an interactive session, H.E. congratulated the students on completing their first year successfully and listened to them share how the scholarship has had an impact on their lives so far. The session moderator Mohammed Ibrahim, an Al Ghurair STEM scholar from Egypt who is currently studying mechanical engineering at AUC, said: "We promise you that one day you will be proud when you see the change that we will make not only in our communities, but in the world."
The American University in Cairo is on track to have 100 Al Ghurair STEM scholars from Egypt and countries across the Arab world by September 2017. AUC is one of the first universities that the Abdullah Al Ghurair Education Foundation for Education selected to be its partner in making education accessible to Arab youth and supporting them to become the next generation of leaders.