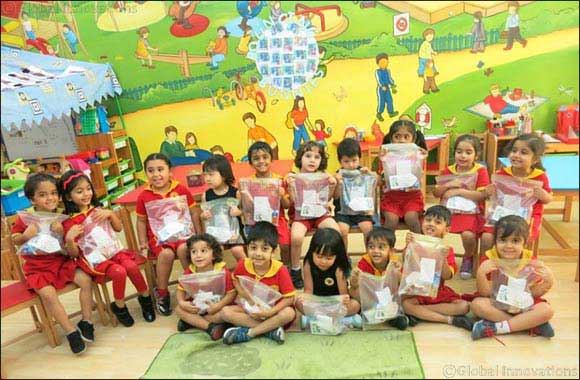 British Orchard Children distributed Iftar packages and toiletries to blue collar workers to celebrate the spirit of giving
June 18, 2017; Dubai, UAE: Young children at British Orchard Nursery celebrated the spirit of generosity in Ramadan by making and distributing Iftar packages to the labourers across different areas in the city.
The initiative aimed to inculcate a sense of social responsibility, compassion and care in children. The Iftar boxes were prepared by children under the guidance of teachers to spread happiness and to learn the art of giving.
Children gifted toiletries such as shower gel, comb, bar of soap, toothbrush, toothpaste, shampoo, face towel, etc. to the labours. Appreciating the concept of sharing fridge initiative, the little ones also kept food, water and juices in the refrigerators that have sprung up in many areas in Dubai to address the needs of the less fortunate. It was a joint collaboration by parents and the school.
Vandana Gandhi, Founder and CEO of British Orchard Nursery, said "At British Orchard Nursery we believe in a holistic and all-rounded growth in children. Our aim is to instil values in the little ones such as respect and care for others while impressing upon them the importance of giving back to the society. One of our priorities is to teach them a sense of responsibility which is just as important as learning to read and write."
She further added "We want to create a new generation which believes in practice of giving, a generation which appreciates that the principle of sharing is the art of caring."
The labourers were delighted to receive the Ramadan packages and appreciated the gesture.
British Orchard Nursery also supports orphanages, old age homes, animal shelters and charitable causes towards the needy through donating a percentage of its revenue to the BON Foundation, the CSR wing of the nursery. The Nursery's employees also give back to the community by volunteering their time, participating in events such as the Walk for Education and Walk for Autism, among other initiatives. In fact, the nursery has also been awarded for its efforts in CSR, receiving the Arabia CSR Award.