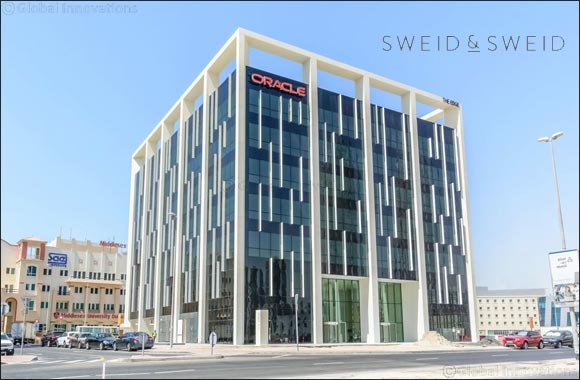 14 June 2017 - Dubai, UAE
Dubai-based boutique developer, Sweid & Sweid, has announced its 100,000 sqft premier commercial development, The Edge, is now fully leased;
The Internet City development is home to leading multinationals, including Oracle, Snapchat and McGraw Hill;
Costa, Just Salad and Classic Burger Joint secured as retail tenants
Leading Dubai property developer, Sweid & Sweid, has announced the full leasing of its first development in Dubai Internet City, 'The Edge' within 10 months of project completion.
The premier 100,000-square foot office building is now home to global tech outfit Oracle, social media giant Snapchat, who made The Edge their Middle East headquarters; and American education publisher McGraw Hill.
Maher Sweid, founder and managing partner of the Dubai-based firm, said: "Our unique ability to recognise niche development, investment and build-to-suit opportunities has resulted in huge success here in the Middle East by delivering excellent returns to our investors and value-for-money to the end users.
"Since launching The Edge in 2014, interest in the development has been phenomenal. When we combine the high-end interior design, the quality of the build, its sustainable credentials, and the location, it's easy to see why we have an unbeatable value proposition. This in turn is securing tenants on long term leases, further underscoring our superior offering."
The Edge comprises almost 9,300 square metres of gross floor area over seven storeys and boasts more than 8,300 sqm of underground parking space, one of the highest parking-to-office ratios in the area.
"Overall, Dubai Internet City is witnessing high occupancy levels as the tech industry continues to grow in prominence both here in the Middle East and from a global perspective therefore it came as little surprise that our prime, Grade A building has proven so popular," added Sweid.
"The opening of the Oracle Digital Hub underscores our commitment to continuously enhance our local capabilities and service offerings in the UAE," said Giovanna Sangiorgi, Vice President, Oracle Digital EMEA. "The hub was designed to support the demand for our complete cloud portfolio across the Middle East. We now have the ability to engage with our customers anytime, anywhere and on their terms."
The Oracle Digital Hub in The Edge building is equipped with future proof technology to deliver an exceptional customer experience. The Hub delivers an unparalleled employee experience and has been designed specifically to align with the modern buying journey using future proof technology to better support our customers in their digital transformation. Features include virtual meeting labs, interactive customer meeting rooms, modern collaboration spaces, and Oracle's first social media hub in the region. The social media hub will enable digitally native Oracle team members to engage with customers using the most modern communication tools and channels.
Retail tenants at 'The Edge' occupy over 3,000 sqft and include Costa, Just Salad and Classic Burger Joint.
Founded in 2006, Sweid & Sweid is no stranger to successful developments and leasing to multinational corporations, having previously delivered The 47th in Cairo, Egypt. The office block hosts a range of tenants including SAP, GlaxoSmithKline, Bristol Meyer Squibb, SABIC, Johnson Controls and Fujitsu.
Sweid said: "We are always careful not to rush into construction, but take our time during the design process and ensure that what we are delivering, be it commercial or residential, is exactly what the market needs."
Sweid has been successfully leading Sweid & Sweid as Managing Director for over a decade. He received a Bachelors of Architecture degree from Syracuse University in New York and from there he joined DEPA, one of the world's premier interior contracting companies and a global top-five industry leader, honing his skills in all aspects of construction – from the drawing board to site management.
In 2006, Maher was awarded a Master of Science in Real Estate Development from Columbia University in New York.