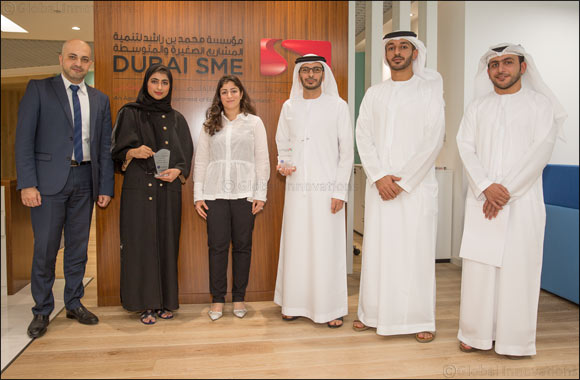 'Unleash Your Inner Entrepreneur' Campaign sees two aspiring entrepreneurs win a year's free rent at a top Dubai location - plus a host of value-added services topping more than one million dirhams
Dubai, 13 June 2017: Dubai SME, the agency of Dubai Economy mandated to develop the small and medium enterprise (SME) sector, and International House for Real Estate Project Management (IHRPM), have named the winners of the 'Unleash Your Inner Entrepreneur' campaign, held as part of their strategic partnership to drive entrepreneurship in the region. Saeed Matar Al Marri, Deputy CEO of Dubai SME, honoured the winners at a ceremony held today.
For Nad Al Hamar Avenues, Hessa Mohammed Taher was awarded the top prize for her Dumya project which crafts unique dolls specific to the UAE culture and identity. The winner for the 93-94 Avenues campaign is Sian Rowlands from My Ex-Wardrobe, a current socially-conscious pop-up project that allows people to sell their pre-owned clothes and accessories.
Both winners will receive one year's free rent at their respective locations, plus a host of other added-value consultancy services to the value of over one million dirhams. This includes services from nine established companies, such as interior design firm Space Matters and business instructors Action Coach, which will guide and steer them towards launching and successfully running their businesses.
"This campaign was a great initiative to drive a culture of entrepreneurship and business-thinking in the region. We are happy that the competition highlighted some innovative local entrepreneurial talent. There were some solid business plan submissions which is testament to the aptitude and ability of UAE nationals," commented Al Marri.
"Dubai SME aims to consolidate the entrepreneurial excellence in the UAE into a culture and key contributor to the national economy. The 'Unleash Your Inner Entrepreneur' competition adds to the strategic partnerships we continue to forge with the private sector and the wider community in line with our 2021 Strategic Plan for enabling entrepreneurial start-ups and growing them into globally competitive and sustainable enterprises," added Al Marri.
According to recent statistics, SMEs account for 94 per cent of the companies operating in the UAE, and are the chief enablers of economic diversification, innovation and the shift to a knowledge-based economy. The 'Unleash Your Inner Entrepreneur' campaign aimed to contribute to this vision and to provide a platform for aspiring entrepreneurs to establish and run successful enterprises in the region.
Mrs. Rasha AlMutawa, Vice President of International House for Real Estate Project Management, expressed her delight at the quality of ideas within the business plans received. "We were tremendously impressed with the range of ideas and submissions that were put forward for both locations. Due to this, and 2017 being the Year of Giving, we decided to offer additional runner-up prizes for Nad Al Hamar Avenues and 93-94 Avenues."
Commenting on the partnership with Dubai SME, Mrs. AlMutawa said, "It was a privilege for us to have Dubai SME on board as one of our strategic partners for this project. They supported our vision and will be providing imperative support and assistance to our winners. We are thrilled to have partnered with them and helped to contribute to growing and developing entrepreneurship and SMEs within the UAE."
The two winners were elated upon receiving confirmation of their first place victories. Taher for Nad Al Hamar Avenues said, "I am so happy to have won this competition. It has always been a dream for me to have my own shop and to be able to bring my Dumya project vision to life."
Rowlands, who will open her first permanent location for My Ex-Wardrobe in 93-94 Avenues, said, "I am so shocked and ecstatic at the same time. This is an opportunity I never thought I would get and I am grateful beyond words. I am excited to open my store and bring My Ex-Wardrobe to the community on a daily basis."
IHRPM has also awarded additional prizes per location: Second and third prizes for Nad Al Hamar Avenues, as well as a runner-up at 93-94 Avenues. For Nad Al Hamar Avenues, second place went to Hassan Al Ali for his new concept laundry shop, Blue Beach and third place went to Mohammed Alzaabi for his coffee shop, 27. For 93-94 Avenues, second place went to Tamara AlEssa for her Pets Goodies pet shop.