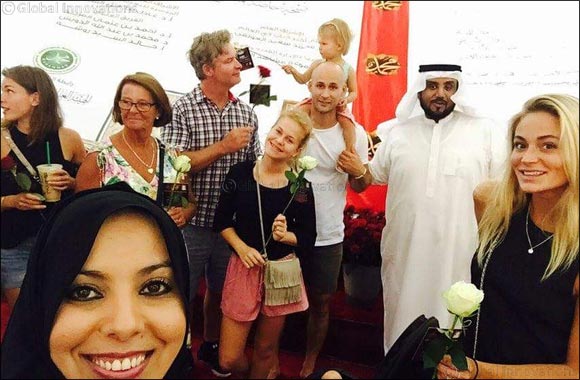 Abu Dhabi, United Arab Emirates, June 12, 2017: A campaign to give away 1 million roses to promote the love of the Prophet Muhammad (PBUH) has concluded in Al Wahda Mall, Abu Dhabi, on Wednesday, June 7th 2017, in the presence of HE Dr. Mohammed Saeed Al Awlaki, Chairman of Mashahad International Group and owner of the World's Largest Book "This is Muhammad" which made it to the Guinness Book of World Records. Launched by Mashahad International Group, this campaign is one of 22 initiatives organized for the book, which is on display at Al Wahda Mall's main gate throughout the Holy Month of Ramadan and Eid Al Fitr, all aiming to promote the culture of peace and tolerance towards all faiths.
With participation from organizers Mashahad International Group along with Al Wahda Mall and several volunteering teams, the campaign generated a positive response from Mall visitors of all faiths, especially as it coincides with the Holy Month of Ramadan. A thousand white and red roses were given away in a gesture of peace and love, along with cards with the word "Peace" in both Arabic and English.
The initiative was launched in 2012 by Mashahad International Group as a response to the UAE leadership's wise directives to promote love and tolerance, given the fact that over 200 nationalities live in the UAE in harmony with no discrimination against any race or faith. Following its resounding success in the UAE, the initiative spread to other countries and was adopted by several student groups and charity organizations. More than 700,000 roses were given away, with plans to reach the 1-million-roses mark while the World's Largest Book is on display at Al Wahda Mall.