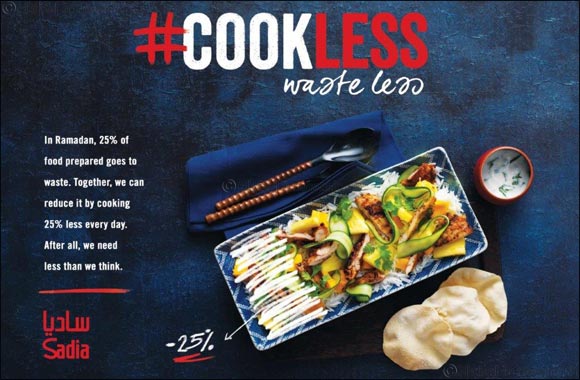 Regional #CookLess campaign reaches out to millions to promote responsible consumption
Dubai, United Arab Emirates – 12 June 2017: According to a study by EcoMENA, the regional sustainability platform, it is estimated that 25 percent of food prepared in homes during the month of Ramadan goes to waste. Sadia, the most preferred chicken brand in the region, has launched a campaign to raise awareness about this issue and encourage households throughout the region to cook less during the holy month and beyond.
The campaign intends to spark positive conversations around the benefits of cooking responsibly and highlights the fact that less quantity does not compromise taste, quality, or enjoyment of family occasions.
The campaign film highlights how one family makes a dramatic change to its traditional Iftaar traditions by cooking 25 percent less than usual. This small change results to the same fun family eating experience, and allows them to benefit other members of the community.
Nadine Kabbani, Brand and Innovation Manager, Sadia, said: "Our message to consumers is very simple – we can all cook less and enjoy delicious, high quality food without waste. And that message – that food is precious – is a powerful one at this time of year. We've seen hotels take action to reduce food wastage, and we believe that by gently nudging more than seven million homes to cook less, we can collectively make a big impact."
The campaign invites consumers to pledge their support to cooking less this Ramadan, an act of giving that Sadia will match with charitable food donations to deserving causes across the region.
The campaign was developed by BBDO and is being screened on most of the popular social media platforms and can be viewed on Sadia Life Facebook page.
Pledge to cook less by clicking LIKE on this video & we'll donate food to those in need.