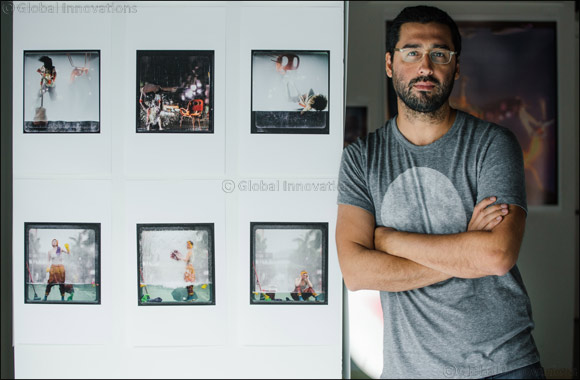 Press conference: 12.30-1.30pm, Wednesday 14 June 2017
Location: Audemars Piguet Lounge, Collectors Lounge, Art Basel
Prior Accreditation is essential for access into the lounge
Le Brassus, 6 June 2017: Audemars Piguet is delighted to announce that LA-based, American artist Lars Jan has been selected to create the 3rd Audemars Piguet Art Commission. The multidisciplinary artist will work with guest curator, Kathleen Forde to present a major new artwork during Art Basel in Miami Beach in December 2017. As Associate Partner of Art Basel, Audemars Piguet has presented ambitious works incorporating strong elements of complexity, precision, technology and science for the Audemars Piguet Art Commission during Art Basel shows since 2015.
Jan's varied skillset has seen him act as designer, activist, photographer, director, writer and visual artist, facilitating a rapid rise to international prominence. He is the founder of Early Morning Opera, a genre-bending performance and art lab whose works explore emerging technologies, live audiences, and unclassifiable experience, reflecting his background in progressive activism.
Last week, Lars Jan presented performance-installation Holoscenes in Times Square for the World Science Festival, in partnership with Times Square Arts. This major performance work takes place in a twelve-ton glass aquarium that floods and drains as a cast of performers respond to the changing water levels over a period of five hours. To date, Holoscenes has been presented in major cities around the world including London, Abu Dhabi, Toronto and Miami.
Jan's work consistently includes an element of technical complexity that mirrors the craftsmanship and advanced mechanics inherent to Audemars Piguet's tradition of watchmaking. His new work for the Audemars Piguet Art Commission will further his interest in exploring man's relationship to nature, and will be presented on a large-scale during Art Basel in Miami Beach 2017.
The Audemars Piguet Art Commission aims to contribute global artistic innovation by supporting artists that explore ideas related to complexity, precision, technology and science. Audemars Piguet not only provide the monetary support to develop and present each project, but also help the selected artist by providing access to advanced tools, craft expertise and the sophisticated technology necessary to realising the finished work. Earlier this year, Jan was invited to Audemars Piguet's home, in Le Brassus, Switzerland, to learn about the brand's 142-year tradition of precision and expert craftsmanship.
Kathleen Forde is currently the artistic Director at Large for Borusan Contemporary and has a background in experimental media and performing arts. Forde has collaborated with curators and institutions that include the San Francisco Museum of Modern Art, Espacio Telefonica Madrid, La Boral Gijon and the Kunsthalle Darmstadt. From 2005 to 2012 Forde was the Curator of Time-Based Visual Arts at the Experimental Media and Performing Arts Center (EMPAC) in Troy, NY, where she commissioned and produced a broad range of new works by artists working with technology and performance, as well as site-specific public art commissions. Audemars Piguet recognised her broad ranging background and curatorial knowledge will complement Lars Jan methods of working.
Olivier Audemars, Vice President of the Board of Directors, said: "We are thrilled to be working with Lars Jan on the 3rd Audemars Piguet Art Commission. His works use cutting-edge technology and bold creativity to explore some of today's most pressing issues, while also incorporating an element of advanced mechanical complexity. It will be interesting to see how Lars translates our watchmakers' skills and meticulous working methods into his adventurous and thought-provoking project."