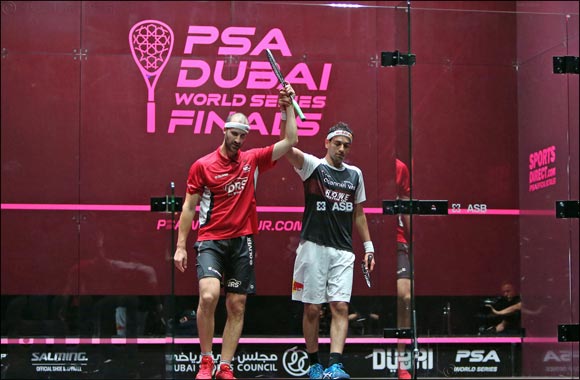 June 10, 2017, DUBAI UAE: The PSA Dubai World Series Finals semi-finals served up all the drama usually expected on an Opera House stage tonight, as the players fought it out for a place in the final of the lucrative season-ending squash extravaganza.
And it will be two England – Egypt finals as defending champion Laura Massaro will meet World Champion Nour El Sherbini in the women's final, and James Willstrop will play Mohamed ElShorbagy for the men's title.
El Sherbini was the first player through to the finals after defeating World number three Camille Serme in a dramatic clash. El Sherbini will compete in the finals for the first time in her career despite suffering a hand injury in the third and final game.
Serme prevailed in a nail-biting opener as she recovered from a blistering start from El Sherbini to overturn three game balls, ultimately taking it 17-15, but it was all El Sherbini in the second game as she levelled the scores for the loss of three points. Leading 4-3 in the third she lost her footing and landed awkwardly on her right hand, forcing her to take an injury break to have it strapped up.
El Sherbini battled on and when Serme held two match balls it looked to be all over, but she refused to give in and forced a tie-break. She then converted a match ball to become only the second Egyptian woman ever to reach the final of this competition.
"I thought that I was going to retire from the match because I couldn't hold the racquet," said El Sherbini.
"But I thought that I should go on and try and I think that it's the reason I won. Because of my hand I was just thinking that I wanted to finish the points, so I attacked on every point and every opportunity.
"It's a big thing for me to reach the final of the World Series Finals, it's very special and I'm very glad to be in the final."
El Sherbini will meet defending champion Laura Massaro in the final after Massaro survived two match balls to triumph over World Junior champion Nouran Gohar, and in doing so reached the final of the World Series Finals for the third time in succession.
The 33-year-old squandered four game balls in the first game to hand the lead to Gohar and from there the 19-year-old looked destined to make it an Egyptian double in the final. However Massaro, one of the most mentally strong players on the PSA World Tour, dug into her energy reserves to take the next four points in a row as she set up a deciding third game.
A confident start from the World No.4 saw her march ahead to a 9-3 lead in the third and she resisted a late fightback from Gohar to earn her place in the final once more.
"Saving two match balls is brilliant and I'm really proud of myself, but I'm also really annoyed that I let three game balls in the first go," said Massaro, whose match finished past midnight.
"It's a tough situation for us both, it's really late and even though you get up late and do everything you can to recover, your body clock says that you should be in bed and not warming up for a squash match. Overall, I just need to let it sink in, but I'm really happy to be through for tomorrow."
England will also be represented in the finals by former World No.1 James Willstrop, who reached the showpiece finale for the first time in his 17-year career after putting in a superb performance to halt World Champion Karim Abdel Gawad.
The 33-year-old was in full flow as he showcased a series of impressive shots from his extensive repertoire to prevail 14-12 in the opening game tie-break.
Gawad continued to push the Englishman hard in the second, but Willstrop closed it out 11-6 to claim his place in the final of the season-ending tournament where he will play Egypt's Mohamed ElShorbagy.
"Before I qualified I wanted to be here desperately and there's all sorts of motivations here. Once I got there I was really focused on it. I had other tournaments to play, but this was the big finale and I've eyed it up certainly" said Willstrop.
Willstrop will meet former world number one Mohamed Elshorbagy in the final, after the Egyptian survived a huge scare to sneak past Germany's Simon Rosner.
The Bristol-based Egyptian was the dominant force on the Men's Tour last season and captured eight titles, but has suffered a disappointing season by his own standards and he lost his World No.1 spot in April. He has shown signs of being back to his best though in Dubai, with a 100 per cent record in Group B seeing him beat World No.1 Gregory Gaultier, World No.5 Ali Farag and World No.6 James Willstrop.
However, an inspired Rösner came within a single point of sending the 26-year-old out after he edged the opening game 11-9 and stormed into an 8-4 lead in the second. But ElShorbagy fought tooth and nail to stay in the tournament, and surged back at Rösner to take seven points in a row, with each winner being greeted with a fist pump and an almighty roar.
Rösner refused to be beaten and hit a number of superb winners build up match balls on two separate occasions, only to see ElShorbagy claw the points back both times before converting on his first match ball to seal a final spot against Willstrop.
"I just fought and didn't give up," said ElShorbagy.
"I just kept fighting and fighting. He had the lead, he was 1-0 up and playing amazing squash. In a best of three he plays at an even quicker pace which makes him way more dangerous. I knew it was going to be a tough battle and he played even better than I thought. I don't think I've ever seen him play like that.
"This is only my third final this season and my first since November. Two weeks ago, I got my motivation back, something clicked and I told myself that I wasn't born to lose in the quarter-finals or semis.
"I'm born for these kind of matches and these kind of moments and I don't accept myself being in another position. There is the golden generation of [Amr] Shabana, Nick [Matthew], Greg [Gaultier], James, [Karim] Darwish and [Thierry Lincou].
"I've played against each one in a final before and I will always remember each final I've played against the guys because they taught me how to play the game. The only one I haven't played in a final is James, so it's such an honour to be in the final with him."
Results - Semi-Finals: Men's 2016/17 PSA Dubai World Series Finals
[6] James Willstrop (ENG) bt [1] Karim Abdel Gawad (EGY) 2-0: 14-12, 11-6 (43m)
[3] Mohamed ElShorbagy (EGY) bt [7] Simon Rösner (GER) 2-1: 9-11, 11-8, 14-12 (62m)
Draw - Final:
[6] James Willstrop (ENG) v [3] Mohamed ElShorbagy (EGY)
Results - Semi-Finals: Women's 2016/17 PSA Dubai World Series Finals
[2] Nour El Sherbini (EGY) bt [1] Camille Serme (FRA) 2-1: 15-17, 11-3, 12-10 (60m)
[3] Laura Massaro (ENG) bt [5] Nouran Gohar (EGY) 2-1: 12-14, 12-10, 11-7 (47m)
Draw - Final:
[2] Nour El Sherbini (EGY) v [3] Laura Massaro (ENG)
The finals will be played at 22:00 on Saturday 10 June.