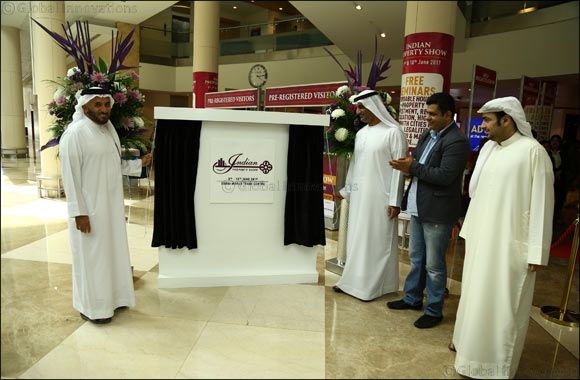 The Indian Property Show returns to Dubai amidst a new beginning for the country's realty sector
With the implementation of Real Estate Regulatory Act, property investors can look forward to transparency, accountability and quality projects among other benefits
Protect your investment, ensure immediate return in the form of rents, and get the best value for money without spending extra
Total NRI investment in realty in top eight cities expected to touch $11.5 billion in 2017, 20% of the total market share
June 8, 2017; Dubai, UAE: Riding high on the positive sentiments that have returned to Indian real-estate, the Indian Property Show in Dubai opened its 20th edition today, featuring hundreds of projects across the country. The longest running property exhibition for NRIs in the UAE is being held at Dubai World Trade Centre, Hall 6, on 8th, 9th and 10th of June from 3pm to 12 midnight. The three-day event was inaugurated by HE Sultan Butti bin Mejren, Director General of Dubai Land Department, and promises its visitors a diverse range of property from apartments, villas, row houses, plots, commercial to retail properties. This year, visitors can also avail exclusive deals and guarantees to protect their investment, ensure immediate return in the form of rents, and get the best value for money without spending extra. Entry is free with provision for free parking.
The exhibition will also feature talks about the new Indian RERA law, taxation, upcoming projects, and infrastructural development that various cities will witness making them a lucrative option to invest.
After a brief shock post demonetisation, the Indian realty is back in business. Within the first three months of 2017, housing sale and new launches shot up by 70 percent as compared to the same period last year. New launches numbered at 30,000 units while housing sales jumped to 23,000 units in the January to March period from just about 14,000 in the previous quarter. Non-resident Indians have also been prolifically buying into Indian property, not only as primary homes, but also as an additional investment. In 2017 alone, the total NRI investment in realty in top eight cities is expected to touch $11.5 billion (AED 42.2 billion), representing 20% of the total market share, currently estimated at $60 billion (AED 220 billion).

"Bringing a paradigm change in the way the Indian real estate sector functions, the implementation of RERA in India has brought the positive sentiment back into Indian Realty," commented R. Srividya, General Manager- Corporate Sales & Brand Engagement, Indian Property Show. "Buyers not only enjoy the right of protection, but the Bill also introduces a transparent system across board that ensures security of investment and accountability in terms of financial disclosure. Combined with the announcement of Goods and Service Tax which aims to eliminate indirect taxes across various states and Real Estate Investment Trusts (REIT) that secures and rewards even smaller investments, the prospects are bright.
"This confidence among the investors will go a long way in boosting the Indian real-estate further, particularly among the NRI population, which can look forward to timely execution of projects and quality construction among other benefits," added Srividya.
In order to further cement this trust, this year's Indian Property Show has introduced several exclusive offers for investors. Sidharth Housing, for example, is offering a three-year Buy Back Guarantee, which safeguards investment from any fall in the market rate, where the buyer has an option to either retain his ownership or sell it to the developer in the same rate as bought and receive a bonus of 10% from the buying rate. Similarly, NRI investors can opt for buying pre-rented flats which will ensure that they get the rent from the very first day of their ownership. Moreover, when buying property in a gated community, investors can simply pay for the land and construction, yet benefit from the amenities with zero additional cost.
Exhibitors at the property show are converging from across key Indian cities such as Delhi, Noida, Greater Noida, Gurgaon, Jaipur, Kolkata, Goa, Ahmedabad, Mumbai, Navi Mumbai, Pune, Chennai, Coimbatore, Hyderabad, Bengaluru, Mangalore and Kochi. These include: Adani Group, Kanakia, Lodha Group, Purvankara, Mahindra Lifestyle, Siddha Group, Rustomjee, Merlin, Wadhwa, Shankar Abodes and Vertex Group among others.