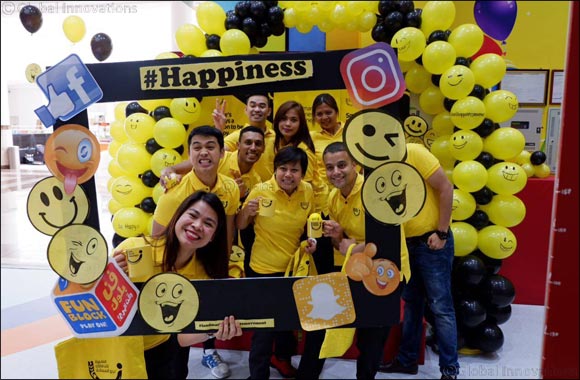 Group Unveils Largest Employee-Led Movement Designed to Impact more than 40,000 Landmarkers in 9 Countries
Dubai-UAE: 08 June 2017: Landmark Group, the pioneering retail and hospitality company behind some of the region's most loved brands and community initiatives, unveiled a first-of-its-kind 'Happiness Movement' impacting over 40,000 employees across all GCC countries, aiming to become the region's happiest workplace.
Capturing the pride, positivity and sense of purpose that Landmark Group's enthused employees bring to work every day, the Landmark Happiness Movement aims to reinforce the values such as passion, speed and simplicity, innovation, ownership and entrepreneurship, that form the core foundation of the Group's philosophy of creating exceptional value.
The campaign has a memorable visual identity and an inspiring anthem, which have been welcomed by employees across the Group's warehouses, stores and offices. It reflects the Group's culture of openness, agility and adaptability, which has been integral to its success in the region.
Speaking on the 'Happiness Movement', Her Excellency Ohoud Al Roumi, Minister of State for Happiness said: "I congratulate the Landmark Group on the launch of the Happiness Movement initiative, which aims to create a happy and positive working environment. I am confident that this initiative will have a positive impact not only on Landmark employees but also on the UAE community as a whole. I encourage all private sector companies across the country to follow their example so we all contribute, in our own way, to making the UAE a happier and more positive place."
Nisha Jagtiani, Executive Director and Chief Happiness Officer said: "The retail business is changing very fast, whether it is from online to brick and mortar, or an evolution to the retail shopping experience or expectations of the customers. In this dynamic, fast changing retail environment, we strongly believe that the value system that Landmark Group was built on - of innovation, entrepreneurship, ownership and passion, are the values that would help us succeed. Through the Landmark Happiness Movement, we aim to bring a positive change by empowering our people, and instilling the values of ownership, pride and belongingness within them."
"Landmark Group has always been a great place to work in. We have grown because we have been able to nurture talent and recognize potential. Through the Landmark Happiness Movement, we aim to go one-step further. We are creating an environment where our people are the consistent drivers of happiness and positivity, across the Group, driving connectivity and togetherness across warehouse and retail."
"We are thrilled at the response we have received from our people. Happiness is a journey and we are just getting started."
The Happiness Movement was rolled-out to Landmarkers, through a three-day power-packed celebration across the Group's retail outlets, warehouses and offices, simultaneously engaging all 40,000 employees, irrespective of the country where they are based or the tasks that they perform. Leaders from Landmark Group, also visited and interact with as many Landmarkers from across the Group's diverse network of retail and hospitality outlets. Thereby making it one of the largest simultaneously coordinated employee engagement initiative in the region.
Envisioned to significantly enhance work-life balance, the people-led movement witnessed the roll-out of several initiatives to connect employees, increase overall engagement and drive focus towards employee health and wellness. Driven by a Happiness team at its core, the movement has identified ambassadors across its business to drive the initiatives being rolled-out.
The Group also introduced Workplace by Facebook to all Landmarkers across the organization, to provide their people, irrespective of designation or function, with one common platform to voice their opinions, engage with their leaders and colleagues, and belong to one large happy community. The internal community has since been abuzz with thousands of photos submitted by proud Landmarkers who joined their leaders in celebrations held across over 100 cities in the region.
This platform will leverage technology to connect every Landmarker across the company through the common thread of happiness.
Landmark Group was the exclusive retail partner for the Global Happiness Dialogue at this year's World Government Summit (2017). The discussions at the summit's first Happiness Dialogue Day cemented the Group's intention to create a region-wide Happiness Movement.