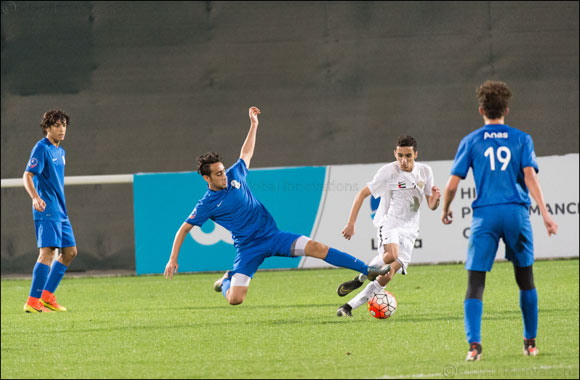 Top Talents in U18 and U16 categories train to play competitive matches against top LaLiga Youth clubs including Sevilla, UD Almeria, Granada, Malaga and Cadiz

Dubai, UAE – 8 June 2017 – du LaLiga High Performance Center (HPC) announced today the names of its top 18 talents in each of the U18 and U16 categories will be travelling to Spain in August for a 21-day intensive LaLiga training camp during which they will also play competitive matches against some of the top LaLiga youth clubs and a chance to be scouted by LaLiga clubs.
The du LaLiga HPC is committed to developing the talents of top football players across the UAE at international standards, preparing them for pro-football careers, especially with LaLiga clubs.
The squad travelling was chosen based on physical, technical and mental development enabling them to absorb high intensity twice-per-day training routine and play competitively against top LaLiga youth teams. Five du LaLiga HPC players are currently expected to get trials will LaLiga clubs this summer during the camp in Marbella.
du LaLiga HPC players are selected through the du Football Champions (duFC) platform, home of the UAE Schools & Streets Cups where more than 7,000 youth from across the UAE play their favorite sport for the opportunity to be discovered.
The du LaLiga High Performance Centre is the first of its kind worldwide, providing the youth of the UAE with a unique opportunity to be discovered by LaLiga club scouts, and trained to standards enabling them to join national or international clubs and teams.
Speaking about the platform Fernando Sanz, LaLiga General Director MENA and Head of International Sports Projects said, "Development of youth talent is very high on LaLiga's agenda. Working with our partners, we are delighted to see the development of many UAE talents in football. We are confident that we will have more success stories to share from the trip to Spain in August and look forward to this platform providing ongoing pipeline of football talents to international standards."
The du Football Champions is a nationwide initiative featuring the UAE's official Schools Cup and Streets Cup. Conducted in partnership with ADEC, KHDA the Ministry of Education, Dubai Sports Council and Abu Dhabi Sports Council. With the du LaLiga High Performance Centre, the platform aims to achieve sustainable human development through the discovery of promising talents, who will raise the bar on sports excellence at local and national teams as they become the next generation of professional footballers.
U18 Traveling Team
U16 Traveling Team
Goalies:
Mahan Javaheri, Ali Karmali
Goalies:
Rajai Ardakani, Abdulla Salem
Defenders:
Laurent Hallal, Mohamed Anas, Mohannad Wahdan, Armen Bzdikian, Mohamed Mahious, Rashed Ahmed
Defenders:
Aidan Pinto, Abdelrahman Sami, Mohamed Ehab Al Shabrawy, Abhinav John, Joshua Hendricks, Timi Esan
Midfielders:
Mohamed Bouherrafa, Yousef Gomaa, Mohamed Haytham, Mohamed Eyad, Ahmad Salam, Fares Nael
Midfielders:
Zayed Bin Waleed Puthiya, Fabio Rollano, Mohamed Rabie, Barbod Mazloumian, Adham Khaled, Hassan Ali
Strikers:
Mohamed Rajeh, Yahia Iraqi, Lotfi Machou, Driss Matni
Strikers:
Adham Bayoumi, Omar Taha, Ramy Hatem, El Mehdi El Khamlichi