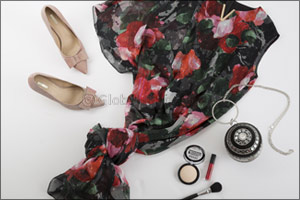 Dubai, UAE, June 8, 2017: This Ramadan, create ensembles that offer both style and modesty with Centrepoint's range of trendy fashion favorites. Incorporate mainstream trends such as ruffles, denim and prints to elevate your look and have all eyes on you this month. Here are a few ideas to get you started.
CAPE GALORE
When looking for the perfect Iftar and Sohour outfits, the cape from Splash's Ramadan collection is a great piece to consider; it comes in beautiful prints, and it works for modest looks as its quite flowy. For a Ramadan day look, you can wear your cape with your favourite jeans and a simple t-shirt, and for a Ramadan night look, you can team up your cape with a midi or maxi dress.
FEMININE FLOUNCE
For this year's Ramadan gatherings, you can never go wrong with the traditional Kaftans. Centrepoint's Ramadan collection has different styles with easy flowing lines that are complemented by voluminous sleeves, setting the ground for a dramatic mood. For a chic Ramadan look, wear your Kaftan like a dress, and style it with a nice belt. Or choose a lightly coloured palette to match the hot summer evenings.
STATEMENT ACCESORIES
With Centrepoint's Ramadan collection, ladies can add some stylish accessories to their outfits that can make all the difference. Dress down an embroidered kaftan with a brightly coloured cross-body bag or add a touch of elegance to your casual look with sequin – bedazzled clutches.
Choose from Shoe Mart's selection of footwear styles to put your most fashionable foot forward this season with a collection that includes embellished flats to take you through the Ramadan days and statement metallic heels for nights with family and friends.
MUST HAVE MAKEUP
As the humidity and high temperatures soar, Lifestyle's range of colour cosmetics promotes glowing skin, vibrant glossy lips, and a soft nude colour palette for the face and eyes. Shine at Ramadan gatherings with a dramatic Arabian-inspired flick from our range of dark eyeliners complemented by dewy eyeshadow colours, and bold lipstick for the perfect summer evening look.