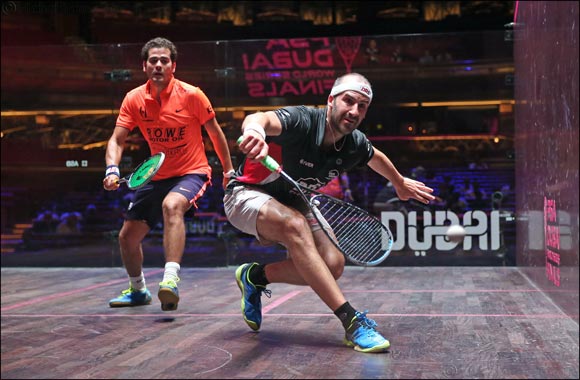 June 7, 2017, DUBAI UAE: The first day of play in the PSA Dubai World Series Finals served up some spectacular squash in the stunning Dubai Opera yesterday.
The first session saw every match go to three games, and some surprise results as World Champion and top seed Karim Abdel Gawad was toppled by Simon Rosner, and three time World Champion Nick Matthew fell to Marwan ElShorbagy in ElShorbagy's first World Series Finals match. World Junior Champion Nouran Gohar also tasted victory over former world number one Raneem El Welily, and the newly crowned Female Player of the Year Camille Serme overcame Alison Waters.
In the evening session defending champion Laura Massaro got off to a winning start in the defence of her title, defeating Malaysia's two-time PSA World Series Finals winner Nicol David 2-0.
World No.4 Massaro and World No.6 David have contested one of the sport's most fascinating rivalries of recent times, with David leading the head-to-head record 22-8. The 33-year-old from Penang held three game balls in the opener, only to see England's Massaro fight back to take a one-game lead before winning the second game by the same margin to take the victory, 12-10 12-10.
'I'm really happy to close it out in the end. You know you've got three matches either way and you've got to do your best in all of them. If I lost today I would have had a bit of an uphill battle tomorrow and the day after, but a win under my belt doesn't mean anything at this point unless I can get at least one more win" said Massaro.
The next match between former world number ones Mohamed ElShorbagy and James Willstrop saw ElShorbagy make it two wins for his family today, after brother Marwan won his match in the earlier session.
ElShorbagy has suffered a disappointing season by his high standards - with the loss of his World No.1 ranking in April bringing a 15-month reign to an end - but he took a step closer to the semi-finals after edging Willstrop in the second to claim maximum points on day one.
'I just want to enjoy myself and be happy on court,' said ElShorbagy.
'This season, I haven't enjoyed it at all, so I'm really happy I did enjoy it today and I want to win. I play to win, I play hard and aggressive in the right manner and I'm really happy to get the win today.
"Getting a 2-0 win in the first match is a great advantage because if three players get stuck on the same points, you can see how many games you won or lost, so it's important. It's a good day for both me and my brother [Marwan]."
World No.7 Sarah-Jane Perry claimed one of the biggest wins of her career after she defeated World Champion Nour El Sherbini to make in an English double at the top of Group B on day one.
Perry had never beaten El Sherbini in their four meetings on the PSA World Tour and was making her World Series Finals debut. After going down in the first game, Perry re-grouped and rattled off winners at will against a helpless El Sherbini, closing out a huge win by an 9-11, 11-9, 11-4 margin to join compatriot Laura Massaro - who she plays tomorrow - at the summit of Group B.
'I'm feeling pretty amazing, I think this is the first time I've beaten Nour, but it's also the first time that I've beaten the current World No.1,' Perry said.
'I'm pretty happy with that. I didn't really come here with any expectations, I came here to try and impose the game that I've been working hard on and trying to show that I'm not just here to make up the numbers.
And in the final match of the first day of play defending champion Gregory Gaultier's 27 match winning streak came to an end at the hands of Ali Farag, who only gained a place in the tournament last week after Ramy Ashour had to withdraw with an injury.
Gaultier had no answers for Farag, going down 11-5 11-7. Farag was delighted with the win, saying "Last time I played Greg I didn't even get a game off him. I'm really happy with the win. It was very important for me to get that first game under my belt, it took the pressure off. But I can't think about qualifying yet, I have to focus on tomorrow and take it one match at a time."
Group stage matches will take place at 3:00pm, 3:45pm, 16:45pm and 17:30pm (Group A) and 21:30pm, 22:15pm, 23:15pm and 00:00am (Group B) between June 6-8. The top two players in each group will progress to the semi-finals, which will take place from 21:30pm on Friday 9 June, with the finals being played at 21:30pm on Saturday 10 June.
Entry to the afternoon sessions on June 6, 7 and 8 is free for families.
Results - Men's Group A Day One: 2016/17 PSA Dubai World Series Finals
[7] Simon Rösner (GER) bt [1] Karim Abdel Gawad (EGY) 2-1: 11-9, 8-11, 11-7 (48m)
[4] Marwan ElShorbagy (EGY) bt [5] Nick Matthew (ENG) 2-1: 11-13, 11-8, 11-7 (49m)
Results - Men's Group B Day One: 2016/17 PSA Dubai World Series Finals
[8] Ali Farag (EGY) bt [2] Gregory Gaultier (FRA) 2-0: 11-5, 11-7 (28m)
[3] Mohamed ElShorbagy (EGY) bt [6] James Willstrop (ENG) 2-0: 11-8, 11-9 (39m)
Results - Women's Group A Day One: 2016/17 PSA Dubai World Series Finals
[1] Camille Serme (FRA) bt [8] Alison Waters (ENG) 2-1: 9-11, 11-5, 11-3 (39m)
[5] Nouran Gohar (EGY) bt [4] Raneem El Welily (EGY) 2-1: 13-11, 3-11, 11-3 (35m)
Results - Women's Group B Day One: 2016/17 PSA Dubai World Series Finals
[3] Laura Massaro (ENG) bt [6] Nicol David (MAS) 2-0: 12-10, 12-10 (30m)
[7] Sarah-Jane Perry (ENG) bt [2] Nour El Sherbini (EGY) 2-1: 9-11, 11-9, 11-4 (37m)
Draw - Men's Group A Day Two
[1] Karim Abdel Gawad (EGY) v [5] Nick Matthew (ENG)
[4] Marwan ElShorbagy (EGY) v [7] Simon Rösner (GER)
Draw - Men's Group B Day Two
[2] Gregory Gaultier (FRA) v [6] James Willstrop (ENG)
[3] Mohamed ElShorbagy (EGY) v [8] Ali Farag (EGY)
Draw - Women's Group A Day Two
[1] Camille Serme (FRA) v [5] Nouran Gohar (EGY)
[4] Raneem El Welily (EGY) v [8] Alison Waters (ENG)
Draw - Women's Group B Day Two
[2] Nour El Sherbini (EGY) v [6] Nicol David (MAS)
[3] Laura Massaro (ENG) v [7] Sarah-Jane Perry (ENG)