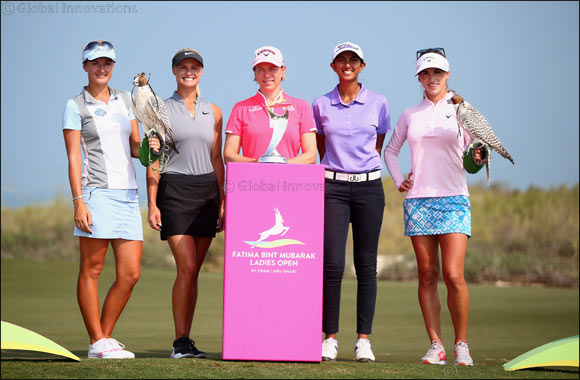 Tournament dates announced as Abu Dhabi celebrates Women's Golf Day
Abu Dhabi, UAE - June 6, 2017: The Fatima Bint Mubarak Ladies Open (FBMLO) will return to Saadiyat Beach Golf Club from November 1st – 4th, organizers announced today.
The tournament dates were confirmed as Abu Dhabi celebrated Women's Golf Day with a series of events and activities at its flagship courses across the city. The global golf day initiative is hosted to help grow the game internationally and to attract women into golf.
To recognise the day, the FBMLO supported ladies' competitions at Saadiyat Beach Golf Club and Abu Dhabi Golf Club, and also hosted FBMLO golf introduction sessions on the driving range with club professionals. Winners of the competitions and closest to the pin received FBMLO prizes and VIP passes to the tournament this November.
Visitors to this year's event will once again have the chance to see the game's leading players on the Ladies European Tour (LET) competing for a shot at the US$550,000 (Dh2 million) prize pool.
Ivan Khodabakhsh, CEO of Ladies European Tour, said: 'The feedback we received from the players at the inaugural FBMLO was overwhelmingly positive, which is not surprising given the world-class facilitates on offer in Abu Dhabi.
Women's Golf Day represents the global movement in women's golf, which is inspiring a whole new generation of golfers and events like the FBMLO play a significant part to ensure this continued growth over the coming years."
Last year's inaugural tournament was won by Beth Allen, who finished 21-under par to take the honours in the first ever women's professional golf tournament staged in Abu Dhabi.