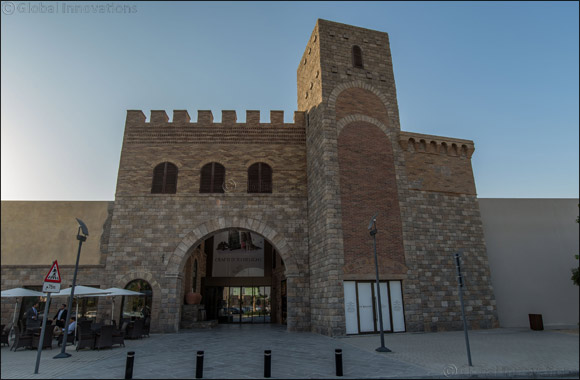 Bazaar Al Rakya to include a range of captivating Abaya, Jelabiya and jewellery designs
Designers include Sheikha Hend Al Qassimi, Shatha Essa, Her Excellency Sara Al Madani presents Rouge Couture, Hessa Falasi, Beige Collection, Marmar Halim, Sahar Madani and award-winning jewellery from Ghenej Jewellery by Muna Al Haddad
Dubai, UAE, June 5, 2017: The Outlet Village, a picturesque retail destination inspired by the streets of Tuscany, will host eight designers from across the Middle East at a bazaar featuring a captivating range of Abaya, Jelabiya and jewellery during the Holy Month of Ramadan and Eid Al Fitr.
Bazaar Al Rakya (Bazaar of the sophisticated, elegant lady), which will open from Wednesday 31 May until Sunday 30 June, will be housed within a warm Ramadan boutique installation at Piazza Dei Fiori, near to The Brass at The Outlet Village. Created to help shoppers connect with local fashion designers and ensure their wardrobes are ready for Iftar, Suhur, and Eid Al Fitr during Ramadan, the bazaar includes a crescent moon lantern as the centrepiece and will complement the specially curated Abaya, Jelabiya and jewellery on display.
Bazaar Al Rakya will include designs that appeal to a broad range of tastes, with collections that have been created to reflect the region's latest fashion trends. In addition to simple yet statement creations from Beige Collection, celebrity favourites from Marmar Halim, exuberant, embellished designs from Sahar Madani and Sheikha Hend Al Qassimi's exquisite House of Hend. Designs also include Hessa Falasi's rich fabric styles in a kaleidoscope of colours, Shatha Essa's hand-finished striking cuts in fine threads and Her Excellency Sara Al Madani's presents Rouge Couture, a timeless fusion of traditional meets modern. Whilst fine jewellery includes 18 carat gold, diamond, mother of pearl, and silk pieces from the award-winning Ghenej Jewellery range by Muna Al Haddad, with their distinctively Emirati calligraphy and design features.
Visitors to The Outlet Village can also enjoy the delights of famous authentic Turkish restaurant 'Grand Saray', with a fusion of Central Asian, Middle Eastern and Balkan flavours being served daily during Iftar and Suhur close to the bazaar.
Conveniently located just off Sheikh Zayed Road, close to Dubai Parks and Resorts and Qasr Al Sultan, The Outlet Village is within easy reach of both Dubai and Abu Dhabi, and Al Maktoum International Airport. Home to more than 125 premium brands and international dining venues at exceptional prices, including luxury retail houses Galeries Lafayette, Valentino, Givenchy, Guiseppe Zanotti, Lanvin and popular eateries, PF Changs, Tashas and Godiva, it is an ideal shopping and leisure destination to enjoy and celebrate Ramadan with friends and family.
As well as extended shopping hours, exceptional deals on summer and Ramadan clothing and mouth-watering Iftar & Suhur offerings throughout the month, visitors will find scenic pathways lined with traditional Ramadan fanouz lanterns, lights, calligraphy and motifs that capture the spirit of Ramadan.
The Outlet Village Opening hours:
Saturday to Wednesday 10am to Midnight; Thursday to Friday 10am to 1am
Bazaar Al Rakya Opening hours:
Daily from 12pm to Midnight