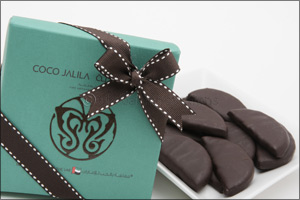 In-store pop-ups of 11 brands from the UAE during Ramadan and Eid including fashion, accessories, home as well as an exclusive chocolate brand
Most of the brands selected in partnership with Dubai Design and Fashion Council
Robinsons reinforces support to local designers by collaborating with Abjad Design to create a unique pattern for the department store in celebration of the holy month of Ramadan
Dubai, UAE, June 4, 2017: Spread across three levels, over 200,000 sqft and with 600 brands, Robinsons in Dubai Festival City Mall is the largest department store in the region and home to 90 exclusive fashion, beauty and home brands. Robinsons, part of Al-Futtaim, offers a large variety of carefully selected international and local labels and beauty brands.
Robinsons is a devoted supporter of local talent and creatives. With their opening in March 2017, the department store launched THE COLLECTOR platform, in partnership with Dubai Design & Fashion Council, a dedicated space to showcase the exclusive collections of select Emirati designers.
In continuation of the Robinsons' support of local cultural initiatives and in celebration of the holy month, this Ramadan the department store in Dubai Festival City Mall is hosting pop-ups, showcasing 11 brands from the UAE. Most of the designers were selected in partnership with the Dubai Design & Fashion Council and their collections will be available at Robinsons until the week of Eid Al Fitr. The partnership with Robinsons and Dubai Design & Fashion Council embodies the goals of the council in supporting and promoting designers and their talent. Part of DDFC's mandate is to enable the growth and recognition of designers based in the UAE and the MENA region, whilst also developing and nurturing a sustainable design industry in Dubai.
The designers include fashion, accessories, home as well as an exclusive chocolate brand.
The feminine clothing line Pearla was established in 2008 by two Emirati Fashion Designers, Hessa and Fatma Ali Aljoker. The brand revolves around the concept of storytelling through fashion; every piece encapsulates a dream or a chapter of a story derived from fairytales that the designers have envisioned throughout their journey in the Fashion industry.
Established in 2015 by young Emarati fashion designer NOOR, Noor the label showcases a wide range of abayas, kaftans and ready to wear outfits. It represents a fine blend of mystique fused with luxury and contemporary elegance. The garments have a relaxed and timeless elegance to them, focusing on fine fabrics and the perfect fit.
Dee by Dalia is a unique concept clothing line created by Dalia El Ali. The brand is known for its statement cut out shirts that are classic and comfortable, using minimalistic colors. The capsule collection available at Robinsons is inspired by Ramadan, featuring glamorous lightweight gowns, kaftans and abayas.
Mixari is a special clothing line by Buthaina Rais, who first started designing her own traditional costumes for Ramadan and other occasions as a way to express her mood and personality. Her style is specialized in mixing colors, fabrics and vibrant patterns with designs ranging from casual to formal evening gowns, and ready-to-wear collections of Jalabeyas or Kaftans in a modern touch.
Launched in 2015 by Doa' a Alghouti, contemporary womenswear label Anatomi fuses timeless styles with modest silhouettes, evoking an elegant aesthetic. Their Ramadan collection is inspired by the ocean and its vast beauty with a fresh and feminine color palette, lightweight and textured fabrics.
Madiso accessories are handmade in Dubai and the label is pushing the boundaries of the conventional and constantly experimenting with current and classic trends from all over the world. Each design is a unique formation of organic shapes carefully hand crafted by skilled artisans.
Award winning jewelry designer and gemologist, Vinita Michael's eponymous label strives to bring together the magnificence of unique design conceptualizations and intricate craftsmanship, in the form of jewelry and precious lifestyle products. Vinita specializes in both Fine Gold set with precious gems and Sterling Silver jewelry.
Coco Jalila is a fine artisanal chocolate brand created by an Emirati woman entrepreneur with a passion for chocolate and a love for her country. Coco Jalila offers a wide range of premium chocolate products, handcrafted using traditional techniques and the finest ingredients, including Italian chocolate, for a healthier and more sophisticated indulgence.
AYA The Art of Living is a design house founded by Saudi Arabian Product and Furniture Designer. The brand creates limited edition contemporary products and furniture fostering form and function, as well as conceptual pieces relative to the Arab world.
THIS Toothbrush is a line of products that revives the ancient tradition of miswak, a natural toothbrush used for centuries in Islamic communities
Established In 2015, Bait Al Kandora is the first Emirati & Gulf designer menswear brand in the UAE. The Brand offers quality tailored bespoke & ready-to-wear kandoras based on a wide range of fine fabrics, the exclusive line of handmade Italian leather footwear, bags and wallets by Pakerson, a Florence Italy based Luxury brand, as well as fine accessories and necessities to complement the modern Emirati man.
In addition to the great Ramadan selection of UAE designers, Robinsons collaborated with Abjad Design, an interdisciplinary design studio based in Dubai, who created a unique pattern for the department store with sparkling stars, welded hexagons and the luminescence of the moon, interwoven into an intricate Islamic pattern that celebrates the harmony and wholeness of the holy month. The pattern appears throughout the store on digital and traditional displays as well as in the windows. It is further expressed through a variety of collaterals including a limited edition notebooks, greeting cards, gift wrapper and tote bags.
Robinsons has elevated Dubai's shopping scene with its pioneering spirit of supporting local creatives and continues to setting the bar by creating a unique retail experiences showcasing the talent of the UAE designers.