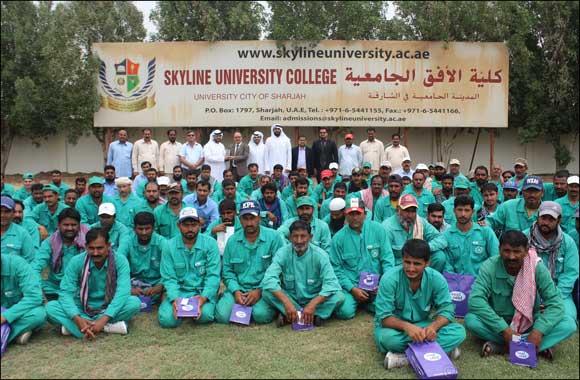 Skyline University College (SUC) and University City of Sharjah organized a cricket match for more than 150 laborers to celebrate Labor Day at SUC on May 1, 2017. SUC Services Committee headed by Dr. Mohammad Abdul Salam, SUC Deputy Director for Public Relations Mr. Firas Al Tabbaa, and Deputy Director and Head of Marketing and Creative Communications Mr. Rakesh Gaur along with University City officials Head of Purchasing Section Mr. Khalid Saeed Al Hadhami, Public Relations Ms. Hessa Butti Aburehaima, Mr. Sultan Abdelazez, and Mr. Khalifa Almheiri welcomed the laborers at SUC cricket ground.
This year, more than 150 laborers took the day off and were invited to play cricket in the vast ground of SUC. SUC and University City prepared special prizes for the cricket match winners, packed lunch for everyone and gave away special gifts sponsored by Cool & Cool.
Reinstating the true meaning of Labor Day, SUC and University City management have gathered the laborers to commemorate the day by recognizing their hard work in making the city a livable place for every citizen. Labor Day is celebrated every year not only to address pressing issues on labor but more on giving importance to the efforts that all workers put into their everyday work. SUC is committed to give back and promote equal treatment among workers regardless of social background.
In the spirit of the Year of Giving, SUC Services Committee has been organizing various CSR activities to give back to the society as part of its company mission and vision. In this celebration, the University City of Sharjah and SUC joined forces to make this day fruitful and fun for all laborers.