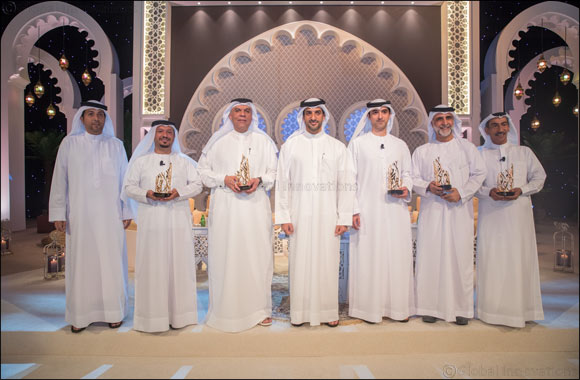 OPENING SESSION OF SHARJAH RAMADAN MAJLIS DEBATES THE STATE OF UAE AND GULF DRAMA; ATTRACTS TOP ACTORS AND PLAYWRIGHTS

SHARJAH/Sharjah Government Media Bureau, May 30, 2017 – The popular Sharjah Ramadan Majlis held its inaugural session last night (Monday, May 29) by calling for the Gulf and Emirati television dramas to train their spotlight on national issues and challenges facing the UAE and find ways of engaging younger generation.
Speaking at the first session of the Sharjah Ramadan Majlis titled, Dramatisation of National Issues, last night, celebrated UAE playwrights, television actors and authors expressed their concern over the state of Gulf and UAE television dramas, arguing that many of the issues dealt with in these serials are either removed from reality or too dated to hold any interest for the UAE audiences -- especially young people who spend much of their time glued to their mobiles and tablets.
The Ramadan Majlis, tackling a host of social and national issues every year, is being hosted jointly by the Sharjah Government Media Bureau (SGMB) and Sharjah Media Corporation at Al Majaz Amphitheatre, under the slogan, Our Majlis is Special in the Holy Month. The opening session attracted a large and elite audience of senior UAE and Sharjah officials, actors, playwrights, authors and the media. HE Sheikh Sultan bin Ahmed Al Qasimi, Chairman of Sharjah Media Council, presided over the session.
Need Focus on Local Issues
Dr Habib Ghalloum, actor, director and cultural advisor at the UAE Ministry of Culture and Knowledge Development and President of the UAE Theatre Society, said that most dramas being aired today on various channels are far removed from reality and fail to deal with national issues and concerns that really matter to the UAE and the Gulf region. The veteran actor said that much of the Arab and Gulf drama deals with history and past events. This trend is being challenged with some ambitious works but overall the situation remains unchanged.
Dr Ghalloum said that following the success of some recent dramas focusing on national issues, many had expected that more of such dramas would be produced highlighting today's issues and concerns. "Unfortunately, the situation hasn't changed much," he said, emphasising that a vibrant television industry in the UAE does not need government support to survive. He called for using the genre of drama to spotlight and debate national issues, saying issues of national interest attract all age groups.
Attracting Younger Audiences
Ismail Abdullah, Secretary General of the Arab Theatre Authority, seconded him saying the Gulf Arab drama has evolved significantly but its focus remains on the past and lacks originality. "Today most dramas are copies of other dramas," he said calling for using the genre of television drama to highlight and confront the challenges facing the country and the region. He lamented that most television networks and dramas have no interest in national issues.
Abdullah called for using the powerful medium of drama and television to fight dark forces surrounding the nation and the region. He regretted that there are not enough good, professional actors and storytellers around to engage younger generations who remain glued to their mobile phones and tablets. "If we have right tools and right content, we can attract young audiences and all age groups," he stressed.
He called for encouraging more Emirati talent to create more dramas and serials celebrating national ideas and issues, saying if the UAE television channels do not sponsor and support Emirati dramas then no one will.
He lauded His Highness Sheikh Dr Sultan bin Mohamed Al Qasimi, Supreme Council Member and Ruler of Sharjah and Sharjah TV for the revival of dramas in the UAE. He recalled the advice of HH the Ruler of Sharjah during the Sharjah Heritage Days festival, calling for promoting local products and talents, which resulted in encouraging Emirati playwrights and storytellers to come forward.
National Icons
Dr Hamad Al Hammadi, the young Emirati author and playwright emphasised that national issues are not just political issues but anything that deals with or tackles national strategy is a national issue. He called for celebrating national icons and ideal personalities who can inspire generations, saying the responsibility for creating such modern, positive icons and inspiring figures lies with today's writers and playwrights.
Underlining the need to tap the youth and the immense potential they represent, Dr Hammadi lauded the UAE leadership for appointing a youth minister as part of the efforts to engage the youth who form the majority in the country's population. "When we talk about targeting and attracting youth, we should also think about encouraging more young people to write and write for a young audience. We should have young people writing and producing new Arab and Emirati drama," he emphasised.
Veteran Emirati actor and playwright Meri Al Halyan expressed his concern over the fact that young generation of Emiratis are forever preoccupied with social media and have little time for dramas and anything else. However, he said, the new generation is open to the world and new ideas, which needs to be exploited by entertainers and television industry. He pointed to the publishing evolution that is taking place in the region. The Gulf novel, like Gulf drama, has evolved. However, there are not many playwrights around who can turn these novels into good, watchable dramas, he noted.
He pointed out that today's youth speak a different visual language and our storytellers must speak and understand the same language.
The first session of Sharjah Ramadan Majlis was moderated by eminent Emirati writer Abdullah Al-Shuwaikh, who kept the audience engaged with his pointing questions.
The Ramadan Majlis is part of the Emirate's continuing efforts to promote a culture of dialogue and social cohesion under the leadership of His Highness Sheikh Dr Sultan bin Mohamed Al Qasimi, Supreme Council Member and Ruler of Sharjah. It celebrates the values of peace, tolerance and dialogue as represented by the holy month of Ramadan and Emirati-Arab traditions.
This year, the Ramadan Majlis will host a number of senior ministers, cultural and intellectual figures and media personalities representing the UAE and the Arab world. There will be total six sessions, being held from May 29 to June 14, and will cover a gamut of issues ranging from politics, culture and media to sports and arts with the aim of promoting a culture of dialogue and respect and tolerance for a diversity of opinion.