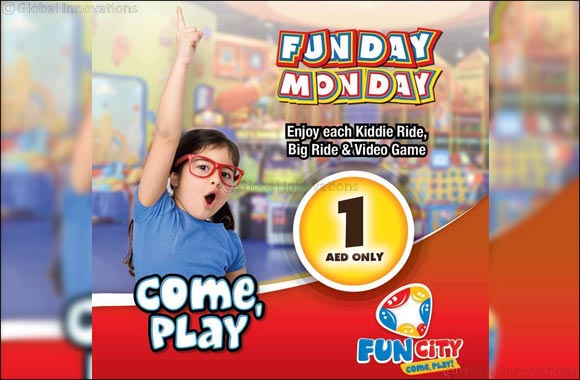 Fun City's Fun Day Monday promotion makes an ordinary weekday become a fun filled day for children and parents.
Dubai, UAE, May 29, 2017: Mondays in the UAE have never been the same ever since Fun City, the largest Family Entertainment Center in the region launched its immensely popular 'Fun Day Monday' promotion throughout its centers in UAE.
Fun Day Monday is a special all-year promotion where every Monday, children can come and enjoy Fun City experiences for just AED 1/- for each Kiddie Ride, Big Ride and Video Game at all Fun City, Fun Ville, Fun Block and Fun works outlets.
Fun Day Monday provides a much-needed mid-week break to parents who struggle to find meaningful ways to keep their children occupied in playful activities that also develop their coordination and motor skills.
Ingeniously packaged, Fun Day Monday has transformed the common perception of dreary weekdays and made it a celebratory outing for children and parents alike, with the added incentive of rides and games at a tantalisingly low fee of AED 1. Thanks to its growing popularity ever since it was introduced four years ago, Fun City has observed tangible change in customer behaviour to the extent that footfalls on Monday now compete with Thursday afternoon and weekends.
This recipe has proved to be a runaway hit with parents and children and there is hardly a family in the UAE that has not thronged to a Fun City venue on Monday to take advantage of this popular offer. This trend is increasingly changing the way families perceive Mondays and almost every family with children is constantly planning an outing around one Monday or the other, all year long to be part of the Fun Day Monday activities at Fun City outlets.
A visit to Fun City offers children a range of options to explore things that fascinate them in formats that suit different age groups, tastes and excitement levels. Fun City also helps enhance children's social skills, giving them a chance to make new friends, develop new hobbies and build happy memories while bonding with family and friends.
Fun Day Monday has tapped into a growing population of young parents who want to give their children the attention they need, in an environment of wonderment, discovery and excitement. Children's response has been the biggest evidence of its success, lapping up the multifarious entertaining activities on display all day at the special rates that makes the experience intensely affordable and thoroughly enjoyable. -
The Fun Day Monday promotion is available across all Fun City outlets in the UAE.