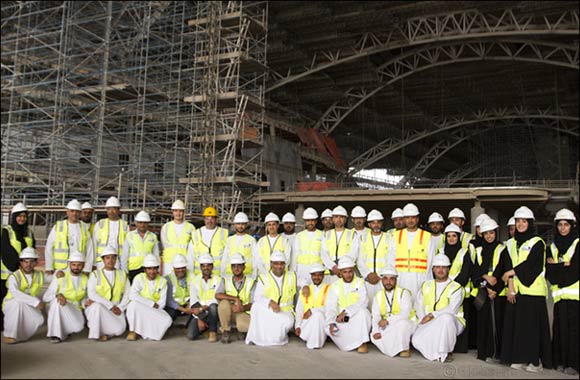 28th May 2017, Abu Dhabi: Abu Dhabi Airports announced today that it has selected 19 candidates from its National Development Program (NDP) to join the Operational Readiness and Airport Transfer (ORAT) team, which was launched earlier this year to prepare the Midfield Terminal Building for operations.
The candidates were selected based on their educational qualifications and performance in the NDP at Abu Dhabi Airports. The move to the ORAT team will give them the opportunity to engage in on-site training and experience to enable them play their role in operating the new terminal once it comes on line.
To celebrate this group Abu Dhabi Airports Board of Directors invited the candidates to the most recent board meeting, which was held at the MTB site, in one of the piers. Their attendance was testament to the Board and executive management's strong belief in the role that the next generation should play and its ability to continue to move the company along the road on its journey to excellence.
H.E. Eng. Awaidah Murshed Al Marrar, Chairman of Abu Dhabi Airports commented: "This move is not only significant for these young national elites, but also for us at Abu Dhabi Airports, as we know we can only deliver a sustainable aviation industry by empowering and training the youth of this nation to become their future leaders. We are building one of the largest airport terminals in the world, with the some of the most advanced technologies and services available, and we need the best people to run to ensure its success."
The ORAT program is a detailed testing phase of all aspects of the airport's operations, and will ensure a smooth transition once the new terminal is opened. With the MTB opening planned for 2019, Abu Dhabi Airports launched the operation of the ORAT program earlier this year by creating 14 working groups that will look at the various functions of the airport. These groups are: terminal & landside operations, airside and ramp operations, aviation security, baggage handling, FM and support facilities, recruitment and training, logistics and contracts, airport management center, systems, process trials, relocation and transfer, fire and life safety, testing and commissioning coordination, and risk management.
The selected NDP graduates will join these various working groups, and more graduates will continue to join as the program evolves and the opening of the terminal gets closer.
Abu Dhabi Airports launched the NDP in 2013 as an initiative to attract young UAE graduates to the aviation industry, and train and integrate them into the various airport professions. The program runs for 18 months per cycle, and to date the company has attracted 92 joiners since the launch of the program.