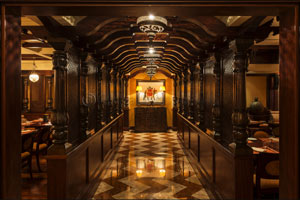 Dubai, UAE, May 28, 2017: Sheraton Dubai Creek Hotel & Towers invites guests to enjoy a special Ramadan buffet all during the month of Ramadan at Ashiana, the quintessential Indian eatery.
To commemorate the spirit of the Holy month, Executive Chef Vipin Kala has specially curated five unique Ramadan buffet menus featuring the finest flavours of authentic Indian dishes, with a modern flair. Each buffet spread features appetisers such as Chicken Tikka, Mutton Kanati, Seekh Kabab, Chicken Samosa with a separate salad station. The main course station features all-time favourites like Mutton Masala, Sabz Makhani, Dhaba Mutton, Chicken Kadai with a set of assorted chutney and condiments. Guests can end their meal with an irresistible selection of desserts. Soothing contemporary music in the background further lightens up the ambience creating a warm vibe for friends and family to bond over their meal. The Ramadan buffet will be served from sunset (Maghrib prayer time) onwards and is priced at AED 139 per person including unlimited soft beverages and canned juices. Children aged between 6 years to 12 years are entitled to 50% off and children below the age of 6 dine for free.
Sheraton Dubai Creek Hotel & Towers is located in the heart of the city offering a cosmopolitan lifestyle with an aura of rustic old Dubai, and prides itself in offering the most authentic Indian cuisine served in traditional manner.