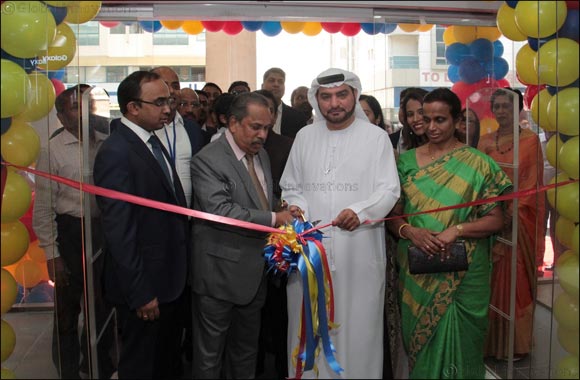 The Group's largest electronics outlet features a VR zone with live recording studio and free WiFi to sing and go live on social media for customers, in addition to a live cooking demo station.
SHARJAH – May 25, 2017: Thomsun Group, a leading business conglomerate with operations in the Gulf and Indian subcontinent, has launched the region's first connected and live experience electronics store in Sharjah. Mr. Juma Alleem, Director of National Media Council offices in Dubai and Sharjah, inaugurated the outlet in the presence of Thomsun Group Managing Directors Mr. KV Thomas and Mr. VT John.
The Group's largest electronics store spans over 30,000 sq.ft. across three levels featuring a Virtual Realty Zone with free WiFi and a live recording studio where the customers can sing and go live on their social media platforms. The store also features a live cooking demo station, and many other surprise elements that provide technologically advanced infotainment experience to the customers.
Thomsun Play showcases a wide range of consumer relevant and innovative household electronic products, musical instruments, gadgets and lighting products with high-end technological features and ensuring global standards of quality. Promises of the store include delivery of selected products on the same day of purchase, opportunity to match product price with that of other outlets in the market, and free of charge service for mobile phones if the repairing time exceeds 60 minutes.
Thomsun Group is one of the renowned companies in the UAE with business interests in various industries including electronics, electromechanical, musical instruments, printing and publishing, pre-press and display solutions, food processing and supplies, bakery, furniture, logistics and education.
The Group plans to invest AED 200 million in electronics retailing in the next three years. The expansion plan will see rolling out 15 retail outlets across the UAE by 2019, including five outlets to be opened in one year.
Commenting on the opening of the new retail outlet, Mr. KV Thomas, Managing Director of Thomsun Group, said, "We are delighted to open our new electronics outlet in Sharjah and enter the mass electronics retail space in UAE. We are planning to expand the retail chain with more outlets in the UAE and beyond, aimed to leverage the positive transformation of consumer electronics and retail segments in these markets. The diversification is in line with the 2020 vision as envisaged by the leadership of UAE."
Mr. VT John, Managing Director of Thomsun Group, said, "With the opening of the new outlet, the Group reinforces itself firmly to the modern, customer-centric electronic retail landscape in the UAE and beyond. The store has been planned to provide a connected environment to customers by enabling the products and services to connect with online applications. We are aligning our operations in line with the trends emerging for the past few years."
Mr Saju Varghese, Deputy General Manager of Thomsun Group, said, "We have seen a steady growth in our retail business and hope to keep the momentum. Our outlets showcase an extensive range of quality and value-for-money consumer electronics products, musical instruments, gadgets, professional audio systems of all premium brands under one roof."
"Consistent growth in our business has bought in remarkable changes over the years. We have streamlined our operations to create a high level of efficiency that delivers the best quality products to our customers at competitive price. A strong revival is happening in the consumer electronics industry as the people are coming to the market looking for innovative products," he added.
The new Thomsun Play retail outlet is located in Aaliya Buiding in Abu Shagara, near Liberty Signal on Al Wahda Road, Sharjah.