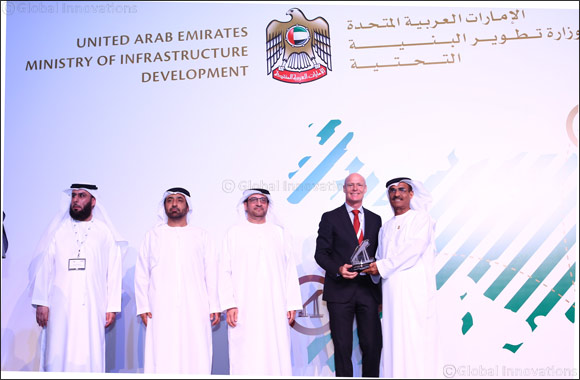 Winning campaign developed in partnership with Aqdar and RoadSafetyUAE
Dubai, United Arab Emirates – 24 May 2017: Nissan's Aqdar Drive Safely program has been officially recognised by the Middle East Road & Bridge Forum for its innovative and engaging approach to road safety in the UAE, just three months after its launch.
The program, developed by Nissan, Aqdar and RoadSafetyUAE, won the award for 'Best Road Safety Innovation Campaign Award by an Automobile Company' at the recent Middle East Road & Bridge Forum Awards hosted by the UAE Ministry of Infrastructure Development. The recipient of the award was determined by delegates attending the recent Forum conference who had to nominate the developers of "a road safety strategy that has resulted in the increased awareness of road safety initiatives and decreased road traffic accidents."
Aqdar is the Khalifa Empowerment Program for Students in the UAE and is therefore, together with RoadSafetyUAE, a natural partner for Nissan in the drive to reduce the number of young people involved in road traffic accidents. In particular, the 18 – 35 group is over-represented in the accident statistics, something which is attributed to over-confidence and risk-taking while driving.
"It is a great endorsement of our campaign to receive this award from a respected organisation such as the Middle East Road & Bridge Forum," said Colonel Expert Dr. Ibrahim Mohammad AlDabal, General Coordinator of the Khalifa Empowerment Program for Students. "Students tend to be both early adopters of trends and agents of change within society. So, if we can get the sign-up of significant numbers of UAE students to this program, we are confident that others will assimilate these important messages about the dangers of being distracted behind the wheel."
Dr Ibrahim's comments were echoed by Yolande Pineda, Director, Corporate Communications Department, Nissan Middle East. "We're delighted to receive this award from an organisation that shares our goal of increased safety on the UAE's roads." said Yolande. "Globally and regionally Nissan is determined to make a significant contribution in the drive to make our roads safer places to be and through small steps such as the Aqdar Drive Safely campaign, we continue to make progress."
"Like my colleagues in this program, I am delighted to see this recognition of its merits," said Thomas Edelmann of RoadSafetyUAE. "Our core message is actually a very simple one: put it on silent and put it away so there is no temptation to answer your phone while driving. Nothing is so important than it cannot wait a few minutes for you to get to a safe place to stop and return a call. It's common sense, but our challenge is to convey the message effectively. We feel this award is a recognition of the fact that we are succeeding in this aim. That makes it particularly gratifying."
Thomas was on hand to receive the award from the UAE Minister of Infrastructure Development, His Excellency Dr. Abdullah bin Mohammed Belhaif Al Nuaimi accompanied by Eng. Ahmed Abdallah Ahmed Alhammadi, Director of the Roads Department in the Ministry of Infrastructure Development, and Eng. Dr. Abdullah Al-Salem AlKathiri, Director General of the Federal Transport Authority, Land and Maritime.
The Aqdar Drive Safely campaign was launched through social media in January before a UAE-wide road show got underway at Higher Colleges of Technology, Dubai Men's College in February. The campaign is highly participative and has been shaped in part by harnessing the creativity and social media skills of students to ensure it communicates messages in ways that are appropriate to a student audience. It is based around the idea of a simple but powerful pledge relating to one of the major contributory factors to the high number of serious and fatal accidents which take place on the UAE's roads.
The use of mobile phones while driving is particularly prevalent among the 18 – 35 year age group and is considered a significant contributor to many serious and fatal accidents.
The pledge at the centre of the Nissan Middle East's Aqdar Drive Safely campaign is simply that the signatory agrees never to use a mobile phone for making or receiving calls or texts while driving. In agreeing to forgo the use of phones while behind the wheel, each signatory is making a promise which, if it were to be replicated across the entire country, would, it is thought, dramatically reduce the number of road accidents at a stroke. The simplicity of this message coupled with innovative and engaging strategies for delivering it is what impressed those judging the Middle East Road & Bridge Forum Awards.