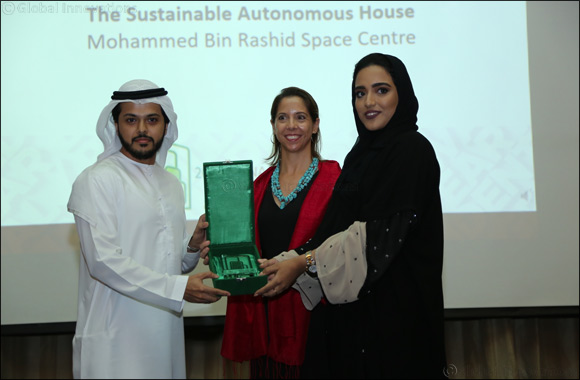 The House has been awarded under the category Green Residential Building as it's the first of its kind Passive House for a hot and humid climate
May 23, 2017
Dubai United Arab Emirates
The Mohammed bin Rashid Space Centre (MBRSC) Sustainable Autonomous House, the first of its kind Passive House for a hot and humid climate, won the 2017 MENA Green Building Award under the category Green Residential Building.
The 2017 MENA Green Building Awards attracted a large number of submissions from many institutions, companies, research centres and students from six countries from the Middle East and North Africa (MENA) region for different categories focusing on sustainability practices.
The event was organized by the Emirates Green Building Council (EmiratesGBC), in partnership with the JordanGBC and LebanonGBC, and supported by the World Green Building Council. The ceremony was attended by a large number of government officials, industry leaders and academic representatives.
H.E. Yousuf Al Shaibani, Director General of MBRSC said: 'Awarding the Sustainable Autonomous House at the 2017 MENA Green Building Awards affirms the Centre's success in launching innovative and integrated projects that provide a typical living environment to humans, adopting to sustainability standards'.
Al Shaibani stressed on the importance of spreading the culture of sustainability to preserve the environment by relying on advanced systems and innovative engineering and technologies solutions that reduce energy consumption depending on natural resources, and also contribute to carbon footprint reduction.
'The UAE is always launching scientific and technological initiatives that have reflects the approach to achieve the highest standards of sustainable development,' Al Shaibani concluded.