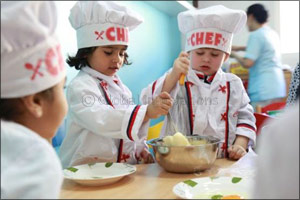 Holy month camps will offer religious, artistic and educational activities
Sharjah, May 22, 2017: Children are set to enjoy an array of artistic, entertainment and religious activities at a number of camps being hosted by Sharjah Ladies Club (SLC) this Ramadan. Running from May 28 to June 22, the programmes at each of the venues have been carefully formulated to align with the spiritual atmosphere of the holy month.
Taking place at SLC's four facilities; Basateen Pre-school Centre, Collage Talent Centre, Tiny Talents Program and the Sports Complex, the Ramadan camps aim to cultivate noble values in children and to teach them about their religion through using simple yet appealing methods.
"Every year during Ramadan we provide our young visitors with a variety of activities that engage their interests and develop their talents. Through our holy month camps we aim to deliver meaningful and valuable content within a special atmosphere, to stimulate children's creative abilities and to teach them about their religion in a way that wins their hearts and minds," said Duaa Al Mahri, Head of Corporate Communication at SLC.
SLC's holy month events for children include the 'Arts in Ramadan,' where youngsters children aged 6-12 years and boys up to the age of 9 years will have the chance to learn to paint with oils and acrylics, draw on canvas, sculpt with clay, model with pottery and build puppets. A series of arts and crafts involving Ramadan-related shapes and Islamic decorations will also be introduced to the youngsters.
The 'Hilal Ramadan' event is tailored for kids aged 3-5 years to teach them a range of traditional arts and Ramadan crafts, Holy Quran recitation and the traditions of Prophet Mohammed (PBUH). The sessions will include group reading with stories from the Holy Quran and tales of the Companions. They youngsters will also be able to enjoy face painting, sand play, swimming and building inflatable castles.
Targeting children aged 5-9 years, the youngsters attending SLC's 'Sporty Fun' camp will learn how to recite the Holy Quran, recycle newspapers and enjoy a variety of sports activities and art workshops.
Focusing on developing children's faith, the 'Ramadan in Basateen' camp will host religious education workshops during which the little ones will learn Quran recitation, watch Islamic educational videos and be taught Ramadan crafts. Children aged 3-5 years will be instructed how to perform prayers and ablution (Wudhu), as well as learn holy month songs and how to create Ramadan decorations. They will also engage in leisure activities that include face painting, gymnastics and preparations for Eid Al Fitr.
Established in 1982, SLC is a subsidiary of the Supreme Council for Family Affairs and is dedicated to facilitating leisure and educational activities for women and children. It organises an array of events and activities that relate to society, art, health and charity, with its activities including lectures, bazaars, exhibitions, sporting events, workshops, marathons, seminars, and forums.