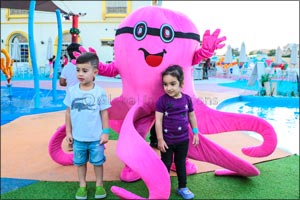 Little ones can experience a thrilling time with carnival games, and fun with water balloons and water guns
Dubai, UAE – May 21, 2017: With summer vacations getting closer, Splash 'n' Party is organizing their first ever, 'End of School Carnival' on the 21st May to get the tiny tots celebrating early.
With most of the actual schoolwork completed and classrooms buzzing with students excited about the summer vacation, the end of the school year often finds parents and teachers looking for ways to keep students engaged.
Priced at AED 100 per child, 'End of School Carnival' is a one-day event from 3.30pm to 6.30pm and will feature a slew of 'splashtastic' activities such as carnival games, fun with water guns and water balloons.
Anjili Samtani-Radia, the Managing Director of Splash 'n' Party says, "End of school is an exciting time for children. They are keenly looking forward to the summer holidays, and water play is one of the best ways to celebrate this time of the year."
Little ones can tuck into delicious kids' meals and experience a variety of entertainment options. Parents are requested to book in advance, as only limited slots are available.
Splash 'n' Party is located in Villa no. 1, Street 8A, Al Safa 2, Jumeirah, Dubai. Opening times are 9 am to 8 pm every day of the week.