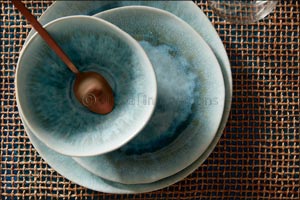 Dubai, UAE, May 18,2017: West Elm launches the new summer collection that takes inspiration from a number of elements. With over xx pieces of fine artistic craftsmanship, the new collection is available at all West Elm stores across the Middle East.
This season, styled furniture including chairs, tables and dining sets add a stylish edge, quirky character and individual charm to any space. West Elm's distinctive style takes inspiration from architecture, machinery and sense of art. They combine metals with reclaimed woods and vintage materials to create chic individual pieces that are practical yet playful, packed with surprising ideas, at affordable prices.
Unlike many home labels, West Elm furniture products are created in–house, where the design team carefully selects organic, handcrafted, sustainably sourced and Fair Trade Certified™ products.
Commenting on the launch, Carmen Chiru, West Elm Store General Manager said, "Our 2017 summer collection not just offers exquisites designs but also includes the right colour palette – soft whites, pared-down blues, muted greys and a touch of metallic embellishments here and there. These combinations reflect the latest home trends that are ensured to liven-up living spaces. At West Elm, we believe our beautifully practical pieces should be used and loved every day. We hope our new collection inspires you to bring the serenity within homes."
With its beautiful reactive glaze finish and subtle ombre effect, the couped Alta Dinnerware is everyday dining at its finest. The best part, it's dishwasher and microwave-safe. Priced starting from AED 25
Richly-grained acacia wood gives the Cast Trestle Dining Table a rustic feel, while its live edges make each one subtly one of a kind. With its spacious surface being dressed up with wishbone-shaped trestle legs, the dinning set is fresh take for living your area. Priced at AED 6050
The Silhouette Pedestal Dining table includes fine cut figure of the richly-variegated marble top perched on a dramatic metal base. Made from solid marble sourced from India, the natural variations in veining mean that no two tables are exactly alike. Priced at AED 4075
The latest in trend, one can use Faceted Lanterns as a centerpiece on a dining table or hang a few around to add ambiance to the next family gathering. Priced starting from AED 185
Hand-hammered glamour, that is made in India using traditional metalworking techniques. These hand-hammered Metal Bowls bring unique texture, shape and reflection anywhere they go. Price between AED 20-450
Bring something special to the table for every meal with Reactive Glaze Dinnerware. Finished with a reactive glaze—a technique admired for its variegated coloring—each piece is subtly one-of-a-kind. Price between AED 39-185
Picturesque Pierced Porcelain Lanterns that are perforated with a delicate design inspired by the night sky that filters light in the loveliest way. Priced starting from AED 39
Over the years, West Elm has set up a platform for local talent to exhibit their work in order to help them gain exposure and enhance their network through the collaborations. They provide artists with prime exhibiting space and spread the word about local exhibitions, in addition to helping them display their art and sell it throughout the store. Each season, the brand's talented in-house team of designers works with artists and independent designers globally and locally to develop exclusive collaborations.
The 2017 summer collection is available at all West Elm stores in the UAE, located at The Dubai Mall in Dubai and Yas Mall in Abu Dhabi.