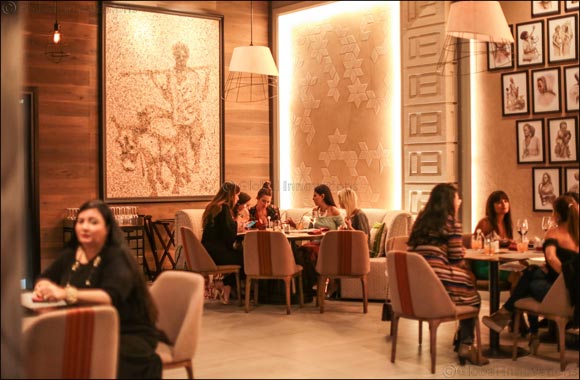 Gursha Dubai, an Ethiopian restaurant, introduces Afro Thursdays to start the weekend with spunk every Thursday
One can attend the Afro Thursdays to explore the Afro-carribbean music &culture while enjoying Ethiopian Food, art, and fashion
Gursha Dubai's Afro Thursdays features a DJ mix of Afro Funk, Reggaetón, Dance Hall along with a live percussion session drummer
Located at Dubai's popular Club Vista Mare with a beachfront, Gursha Dubai also offers shisha, free Wi-Fi, and an indoor and outdoor seating facility in Palm Jumeirah
Focusing on the traditional way of eating, "gursha" in Amharic means to feed someone morsels of food with one's own hands and sharing a communal experience of eating meals together
Dubai, United Arab Emirates, May 16, 2017: Gursha, an Ethiopian family- friendly restaurant located in Palm Jumeirah's popular Club Vista Mare, emphasizes on the traditional way of eating and offers a communal ambience of dining together and sharing a meal with a group. The restaurant launches Afro Thursdays, its first weekly entertainment night, to kick-start the weekend. Beginning from 6:00pm, afro-carribean themed Thursdays features some popular hits in different genres like Afro Funk, Reggaetón, Dance Hall, AfroBeats and Hip Hop among others. One of the highlights of the entertainment-packed night at Gursha is the live drums to set the night rolling. The sound of the traditional Afro drum in sync with the DJ's beats at the beachfront creates a totally enthralling atmosphere. One can enjoy the traditional cuisine along with premium and house beverages by the beach as the evening sets in and brings on the chill vibe.
Gursha's entertainment night on Thursdays, aims to give an authentic Ethiopian experience to its visitors where one can explore and be introduced to the beautiful culture, art, fashion, food and more. The restaurant offers traditional Ethiopian cuisine with its in-house freshly prepared ingredients. Gursha offers many delectable dishes like BuTicha, a chickpea dip with lemon juice, Tibs, grilled beef sautéed in aromatic spices that one can devour with some house beverages making it perfect for a full-fledged Ethiopian dining experience. All the dishes at the restaurant are relished with a gluten-free sourdough bread called Injera on the side that is made from teff flour.
Commenting on the launch of Afro Thursdays, Mr. Beide Worku, Executive Chef, said, "We are very pleased to introduce AfroThursdays by Gursha to the UAE, making Ethiopian culture accessible to the residents, expats and tourists alike. Even though there are many other entertainment nights happening in the city, with this weekly entertainment night we want to introduce everyone to the Ethiopian culture and allow them to experience something different than the regular. We are hopeful that it will help us showcase the warmth and hospitable culture and traditions of Ethiopia here in the region."
The Afro nights happen every Thursday from 6:00pm to 1:00am at Gursha Dubai, Club Vista Mare, The Palm Jumeirah