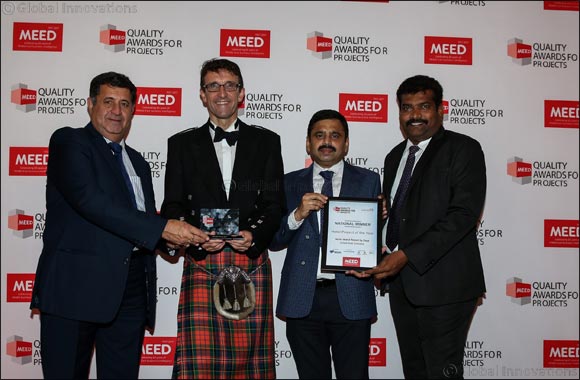 Most Coveted Award For The Best Hotel Project In The UAE
Dubai, UAE, May 16, 2017: MEED Quality Awards are the hallmark of quality and achievement of GCC construction projects. The best 'Hotel Project of the Year 2017' has been awarded to Al Jihan Gulf Horizon General Contracting LLC, one of the Green Bridge companies, for the Nurai Island Resort in Abu Dhabi.
Now in the sixth year, the MEED Quality Awards for Projects recognize both the construction element of projects delivery and value and quality of a project throughout its entire life cycle. Green Bridge was given the award for the engineering elements, construction and contribution to the environment, successful execution and completion of project.
Green Bridge competed fiercely with companies of national and international stature and won the award for delivering projects of high standard of construction with sustainability at the core. 'Nurai' is inspired by the word 'Nur' in Arabic and is a boutique private island resort with a 32-bed villa hotel and 23 private residences and water villas. The food served in the resort is made from local produce and also sourced from the resort's own kitchen garden to foster the spirit of sustainability.
On receiving the award, Anand Kolappa Pillai, Vice President, Green Bridge said, "This is a big achievement for us and it is a great pride and honour to be selected in such a competitive category. We are happy that we have been recognized for the high quality of work done for the prestigious project - Nurai Island Resort. It is a privilege to be selected as one the best in the UAE for our exemplary work that imbibes sustainability parameters. "