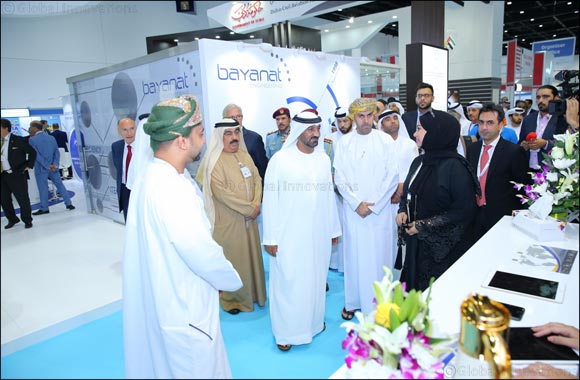 Sheikh Ahmed: Aviation industry expansion in the Middle East continues to surpass average global growth rates
World's largest annual dedicated airport event has over 300 exhibitors from 50 countries
Germany celebrates 17 years of participation at Airport Show
Women in Aviation Middle East hold 2nd General Assembly with over 300 delegates
Dubai, May 15, 2017: His Highness Sheikh Ahmed bin Saeed Al Maktoum, President of Dubai Civil Aviation Authority (DCAA), Chairman of Dubai Airports and Chairman and Chief Executive of Emirates Airline and Group, inaugurated the 17th Airport Show at the Dubai International Convention and Exhibition Centre (DICEC) with over 300 companies from 50 countries participating in the three-day show, expected to be attended by over 7,500 aviation industry professionals.
Accompanied by VIPs and senior government officials, Sheikh Ahmed toured the world's second biggest airport B2B event spread over 15,000 square metres in Zabeel Halls 4, 5 and 6, at the Dubai International Convention and Exhibition Centre (DICEC).
His Highness Sheikh Ahmed said: "The aviation industry expansion in the Middle East continues to surpass average global growth rates. Future projections are equally promising and are behind the ongoing and considerable investment in aircraft, technology and infrastructure. The Airport Show brings together solution providers from around the world giving them the opportunity to explore the latest trends and bring forward innovative products and services designed to support ongoing industry growth and service enhancements."
Sheikh Ahmed met with the exhibitors, who explained about their latest technology products and services being offered for the aviation sector. Among the stalls that Sheikh Ahmed visited were emaratech, which described its latest baggage handling system being showcased at the Airport Show; General Directorate of Residency and Foreigners Affairs (GDRFA) in Dubai, which is displaying the latest smart technologies being used to enhance customer experience; General Authority of Civil Aviation (GACA) Saudi Arabia, who explained the latest facilities and expansion of airports in Saudi Arabia; Dubai Police, who described the latest training program and security centres; Oman Airports Management Company (OAMC), who are showcasing their unique virtual reality applications; Huawei, which is showcasing a range of its latest smart solutions including the smart modular data centre and aviation cloud solution; TAM Europe, Denmark Pavilion, Aaqius Switzerland, Nuctech Company and others.
His Highness Sheikh Ahmed also visited the World Travel Catering and Onboard Services Expo Middle East (WTCEME), co-located with the Airport Show, where he visited stands of Emirates Flight Catering, Pinar from Turkey, Unilever, Pearl's, who launched a new beverage product at the show and other exhibitors.
He also met with the representatives of Women in Aviation Middle East, which hosted its 2nd General Assembly today at the Airport Show. In line with the vision of the UAE's leadership to empower women and enhance their participation across all sectors, Airport Show is supporting 'Arab Women in Aviation' which aims to promote the higher participation of women in the Middle East's robust aviation sector.
Billed as the world's most dynamic airport event, the Middle East's iconic aviation industry show features a wide line up of innovative technology products and services from over 50 countries, including Germany, China, Switzerland, France, UK and Denmark which have set up dedicated pavilions.
Daniyal Qureshi, Group Exhibitions Director, Reed Exhibitions Middle East, organisers of the show, said: "We have experienced a much larger interest in Middle East aviation developments and the Airport Show in particular over the last year, signaling the growing confidence of international suppliers in the region's expansion programmes. We have experienced an almost 10% growth in exhibitors this year, with new country pavilions and more security, ICT and passenger technology companies than ever before at the event. We also have larger delegations from Oman, Saudi Arabia, Kuwait and Pakistan, highlighting the collaboration that Dubai's aviation authorities and integrators have built with authorities in the region."
Airport Show 2017 is being held under the patronage of His Highness Sheikh Ahmed bin Saeed Al Maktoum, President of Dubai Civil Aviation Authority, Chairman of Dubai Airports and Chairman and Chief Executive of Emirates Airlines and Group.
The exhibitors said Airport Show is an ideal platform to showcase their products and services, strengthen their business presence as well as forge new business relationships.
Abdulla Mohammed Al Busaidi, Head of Media from Oman Airports Management Company, said: "We have been participating in the Airport Show for five years and have been increasing our participation every year. The Airport Show is a great platform to connect with aviation industry players from across the world and to explore latest technologies, meet with solution providers to implement the latest smart solutions in our airports. We have had a highly rewarding participation all these years and expect equally fruitful participation this year too."
Explaining the latest intelligent baggage handling system by emaratech, Martin Sattrup Christensen, Chief Executive Officer (CEO), BBHS Intelligent Baggage Handling, said: "We are showcasing the new system for baggage handling which reduces manual handling by 99 per cent. Airport Show is an ideal platform to explore the latest technologies and showcase our latest offerings."
Come GEORGES-PICOT, President, TDA Lefebure, said: "The Airport Show is a strong platform, particularly to tap into numerous opportunities in the Middle East aviation sector. We are showcasing a unique Flex Pit to connect the aircraft to electricity. During our previous participations, we received tremendous business interest and we are confident of a strong interest this year too."
International Pavilions
The 17th edition of the Airport Show has a significant international participation with eight dedicated country pavilions for global exhibitors to showcase and launch their products, services and solutions for the aviation industry.
The Germany Pavilion celebrated its 17th year of participation in the Airport Show and has the largest participation this year with 34 exhibitors showcasing at the event, in addition to seven pavilions dedicated to exhibitors from France, Switzerland, UK, China, Denmark, Benelux and North America.
The France Pavilion, which made its first appearance at the Airport Show nine years ago, is organised by Business France, providing the participants of the world's leading B2B event for the airport industry the opportunity to gain insights into their latest portfolio of products and expertise in different domains.
The SWISS Pavilion is being organised by T-LINK, which serves export oriented Swiss companies an ideal networking platform to access the local market and extend present business relationships.
The Swiss and UK pavilions have 12 exhibitors each this year, while the North American pavilion has seven exhibitors, and China, Denmark and Benelux pavilions have 23 exhibitors.
The world's largest annual airport event is supported by International Civil Aviation Organisation (ICAO), Dubai Civil Aviation Authority, Dubai Aviation Engineering Projects (DAEP), Dubai Airports, dnata, Supply Chain and Logistics Group (SCLG) of Middle East and UAE Contractors' Association, alongwith with emaratech as the gold sponsor, FMT as the silver sponsor and Huawei as the ICT Partner.
Huawei also hosted its 'Global Aviation Summit' today, where experts discussed the most innovative ICT constructions in the aviation industry.
Global Airport Leaders Forum (May 16-17)
Co-located with Airport Show, the 5th Global Airport Leaders' Forum (GALF) will open tomorrow with more than 36 eminent aviation industry leaders and experts discussing the global airports outlook 2026, airport capacity, how airports can most effectively respond to the requirements of airlines, onboard retail, the latest technology trends and other highly relevant aviation industry issues.