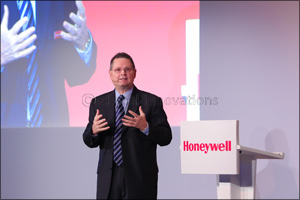 Industry leader showcases smart airport technologies for landside, airside and in the terminal

DUBAI, United Arab Emirates, May 15, 2017 – Honeywell (NYSE:HON), a trusted provider of intelligent airport solutions worldwide, will demonstrate that the sky is not the limit at The Airport Show 2017, being held from May 15-17 at Dubai International Convention and Exhibition Centre (DICEC). Honeywell will be exhibiting in Hall 5 at Stand #5150.

At The Airport Show 2017, Honeywell will highlight its connected technology portfolio, which addresses the current and future challenges facing airports and airport operators. With its technology implemented in more than 500 airports across the globe, from the moment passengers set foot on airport property until they arrive at their final destination, Honeywell is along for the journey.

"Honeywell provides technologies for every touchpoint in an airport – an end-to-end solution for landside, terminal and airside operations that help achieve smoother traffic flow and enable efficient operations that ultimately enhance passenger experience," said Norm Gilsdorf, president, Middle East, Turkey, Russia and Central Asia. "With more than 100 years of global experience in the aviation and airports sectors, Honeywell is uniquely qualified to support the growth and development of the Middle East's airports."

According to the latest industry reports, the smart airports market is expected to be worth more than US$19 billion by 2024, growing at a CAGR of more than 10% over the next eight years*. In the Middle East, the smart airports market will be worth $850 million by 2019**. Investments in IT continue to be made to enhance the passenger experience through achieving operational efficiency while reducing costs.

Sonja Strand, general manager for Honeywell's global airports business added: "At Honeywell, we identify a connected airport as one that includes the passenger journey from the airport arrival right through to final destination. Based on our work with airports and operators across the region, we will be showcasing our latest innovations at The Airport Show 2017 in response to current and future needs. Our connected airport solutions allow for smarter airports, which makes air transport more efficient, safer and more comfortable for passengers."

At The Airport Show 2017, Honeywell will be showcasing the following:
• Taxiway Guidance Signs: Honeywell is setting a new standard in Taxiway Guidance Signs, showcased for the first time exclusively at The Airport Show 2017. Developed for airports worldwide and especially for those facing increased challenges accommodating wide-bodied and heavy aircraft, this patented and unique aerodynamic design ensures taxiway guidance signs can withstand jet blast, wake turbulence, and wind load requirements while meeting the most stringent frangibility requirements.

Additional technologies on show will be:
• Baggage and scanning capabilities: for passenger check in.
• Honeywell Command and Control Suite: for a holistic view of terminal operations to ensure comfort and safety of passengers.
• Latest security and fire capabilities: for targeted, critical announcements with Public Address & Voice Alarm and for the appropriate airport area access with Pro-Watch® Access Controls.
• Ground Based Augmentation System: for a cost-effective precision navigation solution to increase airport capacity, decrease air traffic noise and reduce weather-related delays.
• Cyber Security Service for Airport/Air Traffic Management Systems: for the safety and security of operation at airports and Air Traffic Control.
• Maintenance Services: for specialized set of services that can keep airside operations constantly running.

More than 500 airports globally, almost every air transport and business aircraft, and most of the world's airlines trust Honeywell to take them to new heights. A specific example in the Middle East is last year's announcement of Honeywell's 'follow the greens' technology at Dubai International Airport. Honeywell's advanced Ground Traffic Management system allows for individual lamp control, which increases capacity and improves runway safety while reducing airport energy use and carrier fuel consumption.

Other recent global announcements include, Honeywell helping China's Commercial Aircraft Corporation of China Ltd. (COMAC) C919 on it first flight by providing four solutions: an auxiliary power system, wheels and brakes, flight control package, and navigation package. Honeywell is also providing its Advanced Visual Docking Guidance System (A-VDGS) for Istanbul New Airport, which is currently under construction in Istanbul, Turkey. The technology will help speed airplane gate arrivals and departures safely and efficiently, and optimize gate capacity at the new airport.