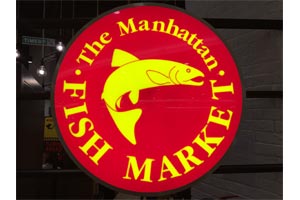 Nothing is better than a weekend with family and good food. This weekend I visited The Manhattan FISH MARKET located in Dubai Festival City, Level 2, Sky Walk Food Court.
A heaven for Sea Food Lovers. They give you such a warm welcome that everyone has a smile no matter how hectic or tiring the day was.
The decor is amicable.
The specially crafted menu has various kinds of sea food to suit its customers, like Oysters, scallops, dory, mussels, prawns, calamari,King fish, Salmon, Cherry Snapper and Nile Perch. Cooking method can be as per your taste like grilled, fried, baked, poached or flamed.
Drinks are very refreshing and are made with 7up so no sugar is added (great for the calorie counters out there) and tastes great!
Happiness infusion and Citrus Mint is highly recommended.
For starters we ordered Fried Calamari, it was served in a bowl full of salad and sause...a bit chewy though!
Ocean Gems is a chilled and refrshing tasgy starter.
Vegetarin options are good as well, we tried Creamy mushroom penne, it had a nice earthy, savory and nutty flavour cooked and blended very well.
Next main dish was Salmon'N Mash, as the name suggests it is served on a mountain of mashed potatoes, grilled vegetables and black pepper sauce. On more thing and most important, kindly tell the waiter when you place the order if you want the fish to be well done cause normally they serve it done 75%.
If you visit The Manhattan FISH MARKET Manhattan, their flaming Platters are a must try. This dish consists of garlic and herb rice, spicy fries, vegetables, mussels, calamari but the flamed lobster beats all of them and is the star of the evening.
Let us come to desserts now...yes they were amazing too..Strawberry Flammin-80 and Sizzling Banana Fritters with Ice-Cream, both were very classy, flamed and tasty.
The pricing is very reasonable.
Service is great.
Parking - Mall parking can be used as this is in the food court.
Business Hours:
Sun-Thurs: 12noon-10pm
Fri-Sat: 12 noon-12 midnight.
Telephone: =971 4 2866945.
About The Manhattan FISH MARKET Restaurant: It is a concept that has more than 180 years of history in the making. Its early beginning can be traced back to the fish market on Fulton Street, which has greeted the dawn from its location in Manhattan under the Brooklyn Bridge, with the freshest seafood.

Seafood restaurants lined along Fulton Street offering the freshest catch from the Manhattan fish market and it is this scene that stirred the minds of three young entrepreneurs, who decided to recreate the concept in The Manhattan FISH MARKET chain of restaurants.

Now with the first outlet here, The Manhattan FISH MARKET brings the same flavours and great service to Dubai.