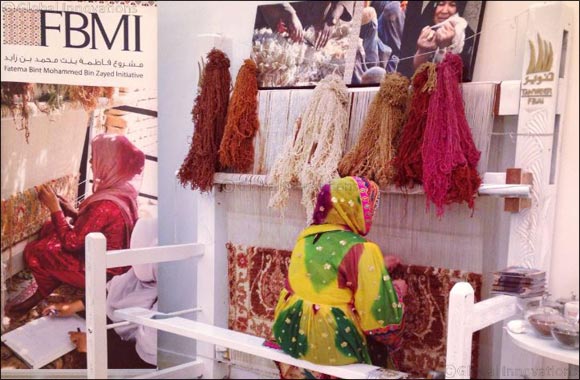 Remarkable art pieces created in a unique collaboration between Emirati artists and artisans in Afghanistan will be on display at Dubai Festival City from 21 May to 16 June
Dubai, 14 May, 2017: In partnership with The Fatima Bint Mohamed Bin Zayed (FBMI) initiative, Dubai Festival City is set to open a unique art exhibition within its main atrium, Festival Square. From 21 May to 16 June, FBMI will be showcasing the remarkable artwork of four prominent Emirati artists who took part in the 'Artists for Change program, at Dubai Festival City.
The exhibit will unveil the largest yarn ball ever assembled in the region with a diameter of three metres. The ball of yarn is hand crafted out of 100% indigenous wool, hand-spun by female weavers and dyed with natural vegetable dyes in Afghanistan.
The exhibition will support Artists For Change, a new program launched by FBMI in collaboration with UAE artists and underprivileged artisans in Afghanistan.
Four Emirati artists were invited to be a part of the Artists For Change program; Sheikha Wafa Hasher Al Maktoum, Sheikha Mariam Khalifa Al Nahyan, Shamsa Al Abbar and Mohammed Harib. Each one graciously donated their artwork to be woven into hand-knotted carpets by the FBMI female weavers. Not only will this provide employment to the artisans but also a range of social benefits as provided by FBMI. The diverse Emirati artists were invited for their expansive vision, their capacity to achieve artistic excellence, create content-driven artwork, and their recognition within the international art community.
The woven FBMI carpets, which have been gifted to world leaders such as The Pope, Barack Obama, Bill Gates, Guido Westerville, will be exhibited and also be available for sale at the newly expanded Dubai Festival City.
Farshied Jabarkhyl, FBMI Regional Manager, says: "We are extremely pleased to unveil the Artists for Change program at Dubai Festival City. FBMI aims to use this exhibition as a physical platform and forum for the community to raise awareness about Afghan women's empowerment and to emphasize the immense support of talented Emirati artists. This exhibition reaches out to bridge the gap between international talent and underprivileged artisans in Afghanistan. FBMI extends its sincere gratitude to Dubai Festival City for all the support by teaming up as a strategic partner for this exhibition."
The model of the initiative is unique in the way that its retail arm supports the FBMI initiative in Afghanistan. All proceeds of FBMI carpet sales go to FBMI female weavers in the form of salary, access to health and compulsory education for their children. FBMI offers sustainable employment opportunities to over 3,000 Afghans. The project ensures the women are employed with dignity and earn a sustainable income, not in the form of handouts and charity. The retail presence in the UAE, UK and soon to be the US, ensures the sustainability of the initiative by selling the products on an international scale.
Steven Cleaver, Director Shopping Centres, Al-Futtaim Group Real Estate, says, "We are proud partners of FBMI and are delighted to host this unique exhibition where it will have pride of place within Dubai Festival City. We hope visitors take the time to enjoy what these talented artists have created."
Located in Festival Square, the exhibition is open every day from 10am to 10pm on Sunday to Wednesday and from 10am to 12am on Thursday to Saturday. Visitors will also be able to try their skills on the traditional Afghan carpet loom as two FBMI weavers demonstrate live carpet-weaving every day during Ramadan from 4pm to 12am.