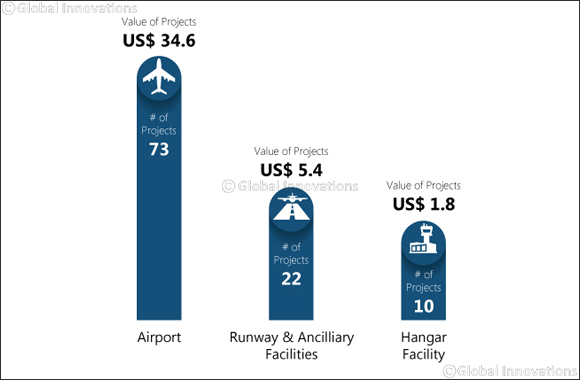 UAE, Saudi Arabia, Qatar, Kuwait and Oman's aviation infrastructure to help fuel travel and tourism sectors and accelerate the economic growth of the region
The total estimated value of 152 aviation-related projects in the GCC exceeded US$57 billion (Dh210 billion) in the first quarter of 2017, according to BNC Intelligence
Around 46 per cent of the region's aviation projects are located in Saudi Arabia
More than two-thirds of all aviation-related projects in the Middle East are being executed in the GCC countries
Nearly a fifth of the aviation projects with a combined estimated value of US$11.5 billion (Dh42.2 billion) are on hold in MENA
Dubai, UAE, May 14, 2017: The total value of 152 active aviation-related projects in the Middle East reached US$57.7 billion (Dh211 billion) in April 2017, according to BNC Network, – the largest and most comprehensive project research and intelligence provider in the Middle East and North Africa (MENA) region.
GCC's aviation sector constitutes 69 per cent of the number of all active aviation projects in the MENA and in dollar terms. The Gulf region's aviation projects account for 72 per cent of the total estimated value for all aviation projects in the MENA region, according to BNC Intelligence.
The latest BNC Intelligence report shows that Saudi Arabia has the largest share (46%) of aviation projects in the GCC in terms of dollar value followed by the UAE (26%) and Kuwait (12%).
In April 2017, three airport projects in Saudi Arabia were awarded for construction, namely the redevelopment of Hail Airport project worth US$380 million, Qassim International Airport located in Buraidah worth US$372 million and Taif International Airport worth US$350 million.
Two more aviation projects – namely STTS Aircraft Painting Facility located in Dubai World Aviation City and an Aircraft Hangar facility at Sharjah International Airport – were also awarded in April 2017.
'A strong aviation infrastructure will be a fundamental driver of development across the region. Connecting the region through a network of small airports facilitates urbanisation across a country rather than just around major cities. Small airports support the need to continue to build larger airports as well as airlines require hubs to manage their growing operations,' Avin Gidwani, Chief Executive Officer of BNC Network, says.
'Air travel is being rapidly commoditised – people expect and demand fast, easy and economical mobility and for the region to stay economically competitive and attractive for business and tourism it must put in place a world-class aviation infrastructure.'
The combined aircraft order backlog by Middle Eastern carriers reached US$277.9 billion (Dh1.01 trillion), or 14.4 per cent of the total global aircraft order backlog, according to a report by Deloitte. This involves more than 1,000 aircrafts on order to serve over 400 million passengers by 2025.
Middle East carriers had the strongest regional annual traffic growth for the fifth year in a row in 2016, according to the International Air Transport Association (IATA).
"Revenue Passenger Kilometres (RPKs) expanded 11.8 per cent, consolidating the region's position as the third-largest market for international passengers. Capacity growth (13.7%) continued to outstrip demand, with the result that the load factor fell 1.3 percentage points to 74.7 per cent," IATA said in its annual report.
The latest BNC Intelligence report reflects increasing focus by the governments of the oil-rich Gulf countries on aviation and tourism sectors to diversify their economies and reduce dependence on hydrocarbon.
"Continuous economic growth in Arab countries and empowerment of the region's population will encourage more people to travel across the region and out of the region for business and leisure, pushing the demand for additional airport capacity – both passenger terminal and aircraft take-off and landing facilities," Gidwani says.
"Therefore, the governments of the Middle Eastern countries are expected to increase investment in aviation infrastructure in the coming years."
Among the mega airport projects, Al Maktoum International, with a development value exceeding US$8 billion (Dh30 billion) will continue to dominate the headlines, followed by Abu Dhabi International Airport's expansion, valued at US$6.8 billion (Dh25 billion) and the ongoing expansion of Seeb International Airport in Muscat as well as Kuwait International Airport.
Dubai International Airport – the largest aviation hub in the Middle East that is undergoing a Dh28 billion expansion – has served 83.65 million passengers last year and will reach its capacity of 90 million in two years – that will put pressure on its facilities. This will accelerate the pace of construction activities at Al Maktoum International Airport at Dubai South master development.
However, due to certain reasons, more than 31 per cent of the aviation projects with a combined estimated value of US$11.5 billion (Dh42.2 billion) are on hold in MENA.
According to BNC Intelligence, airport projects have the largest share (83%) of the GCC's aviation industry in terms of dollar value and the rest 17 per cent is accounted by hangar facility projects, runways and ancillary facility projects.
BNC, the largest project intelligence provider in the MENA region, tracks 25,324 live construction projects with a value exceeding $7.2 trillion (Dh26.4 trillion). It publishes more than 250 project updates that are distributed amongst 73,000 executives and professionals every day.
Middle East Aviation Projects Snapshot
US$57.7 billion: Value of airport projects in the Middle East
US$11.5 billion: Value of the stalled airport projects in the Middle East
1,000 aircraft: Firm aircraft orders by airlines in the Middle East pending delivery
US$277.9 billion: Value of aircraft order backlog by Middle Eastern carriers
83.5 million: Passengers passed through Dubai International Airport in 2016
400 million: Passenger traffic estimated to travel through airports in the Middle East
Source: BNC Network, IATA and Deloitte