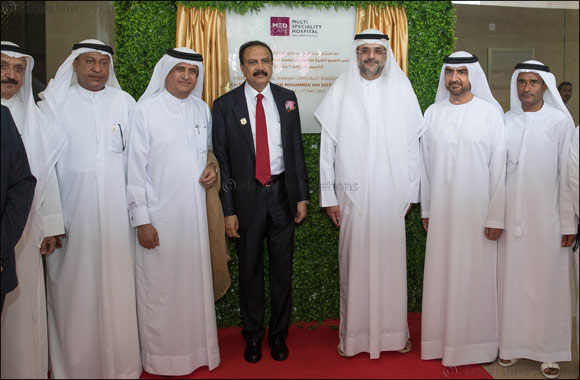 Sharjah, United Arab Emirates, 13 May 2017: His Highness Sheikh Sultan bin Mohammed bin Sultan Al Qasimi, Crown Prince and Deputy Ruler of Sharjah, inaugurated the new Medcare Hospital in Sharjah this morning in the gracious presence of His Highness Sheikh Abdullah bin Salem bin Sultan Al Qasimi, Deputy Ruler of Sharjah. The hospital is located on King Faisal Street in the Al Qasimiya Area of Sharjah.
An opening video was showcased during the ceremony about Medcare Hospitals and Medical Centres, the latest developments in the medical field, and the new facilities being offered at the Medcare Hospital in Sharjah.
Dr. Azad Moopen, Chairman and Managing Director of Aster DM Healthcare, the global healthcare conglomerate which operates Medcare said, "Medcare is a brand that strives to achieve a new benchmark in healthcare delivery. The launch of Medcare Hospital Sharjah is a step forward in realizing our mission to develop a leading healthcare system that supports the highest standards in preventive, curative and rehabilitative healthcare, while creating employment opportunities, and attracting the best talent in the UAE. We believe that there is great potential for use of technology in integrated healthcare offerings, which will improve accessibility and reduce costs."
In a first of its kind initiative, the hospital will enable patients to receive a follow-up doctor consultation from the comfort of their home with the help of a simple and user friendly tele-medicine technology called 'eSTISHARATI'. The service is in compliance with legal and procedural requirements that are mandated by the Ministry of Health and Prevention, and local authorities in UAE. Post-operative patients can benefit from this facility and interact via video conferencing with their treating doctor within 7 days from the date of their surgical procedure.
His Highness Sheikh Sultan received a commemorative gift from Medcare Hospitals in recognition of his support for healthcare efforts in Sharjah.
His Highness the Crown Prince of Sharjah and HH the Deputy Ruler of Sharjah toured the halls of the 120-bed hospital with the latest state-of-the-art medical systems and medical equipment.
Medcare Hospital Sharjah offers a wide range of outpatient, day care, inpatient and 24/7 emergency care services to patients of all ages. The team of doctors comprising of experts from twenty specialties will provide high quality, multidisciplinary treatment to patients with the support of trained nurses, therapists and technologists. Some of the specialties include Gastroenterology, Endocrinology, Internal Medicine, Neurology, Urology, Obstetrics & Gynaecology, ENT, Dental, 24/7 Emergency Department, Dermatology, Paediatrics & Neonatology, Cardiology, General Surgery, Orthopaedics and Ophthalmology.
"We are very happy to announce the opening of Medcare Hospital Sharjah. Facilitating access involves helping people utilize quick and reliable medical resources when needed, to preserve and improve their health. Led by a team of international experts, our endeavour is to provide the best care and personalized attention for all patients, and live up to our simple promise, 'We'll Treat You Well'," said M. Motaz Al-Jammal, Chief Operating Officer, Medcare Hospital Sharjah.
The inauguration event was also attended by Sheikh Khaled Bin Abdullah Al Qasimi, Chairman, Seaports & Customs at Sharjah Ports Authority, Sheikh Salem bin Abdul Rahman Al Qasimi, Chairman of the Sharjah Ruler's Office, Sheikh Abdullah bin Mohammed Al Qasimi, Director of the General Authority of Islamic Affairs and Endowments in Sharjah, His Excellency Sultan Abdullah bin Hadda Al Suwaidi, Chairman of Sharjah Economic Development Department, His Excellency Navdeep Singh Suri, Ambassador of the Republic of India to the UAE, H.E. Khalid bin Butti Al Hajri, Director General of Sharjah Chamber of Commerce and Industry, H.E. Dr. Amin Hussein Al Amiri, Assistant Undersecretary for Public Health Policy, UAE Ministry of Health & Prevention, and a number of officials, doctors and media representatives.