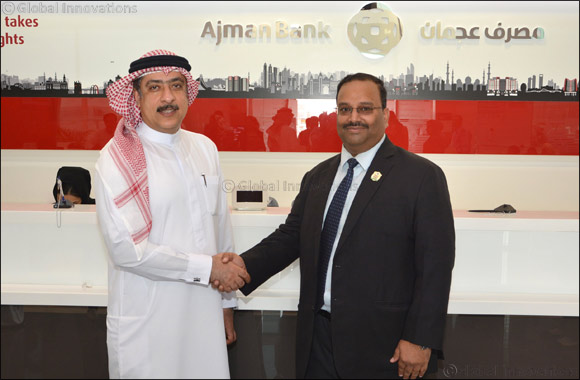 Ajman Bank Health Awareness Week will see Aster doctors educating over 450 employees on healthy lifestyle measures and providing free health check-ups.
The initiative is being conducted in alignment with Ajman Bank's corporate responsibility objective of encouraging their employees to lead better and healthier lifestyles.
Dr. Aster Mobile Clinic - Aster's mobile health service unit will visit 6 branches across Dubai, Sharjah and Abu Dhabi to provide free health services.
Dubai, United Arab Emirates, 11 May, 2017: Aster Clinic, Ajman in partnership with Ajman Bank, is conducting 'Ajman Bank Health Awareness Week' aimed at equipping employees with the information and measures required to improve their health and wellness. The programme will include talks on various health topics and free health checkups by doctors from Aster Clinic, Ajman. With over 200 employees benefitting from the service at the main branch of Ajman Bank on the inaugural of the event, over 450 employees are expected to undertake the health checks during the course of one week.
The week-long initiative from 7th to 11th May is in alignment with Ajman Bank's corporate responsibility, and demonstrates the Bank's care, concern and encouragement towards its employees to pay adequate attention to their health in order to lead better and healthier lifestyles. The awareness program and health checks will reach employees across the Bank's branches in Dubai, Sharjah and Abu Dhabi, through Dr. Aster Mobile Clinic – a sophisticated mobile unit equipped to provide primary medical care services. Conducted by Aster's skilled team of doctors, specialists, certified health care practitioners and a dietician, the programme consists of screenings and tests to detect health disorders such as diabetes, hypertension, cardiovascular disease and nutrition deficiency.
"We are extremely delighted to collaborate with Aster Clinic and pleased with the outcome of the first few days of Health Awareness Week. This is the first time that we have joined hands with Aster to improve and promote employee health and wellness. Our collaboration is aimed at implementing healthy living habits among employees that they can pass on to their friends and family. Ajman Bank is collaborating with Aster DM Healthcare to keep up the latter's promise of We'll treat you Well," said Mr. Mohamed Amiri, Chief Executive Officer of Ajman Bank.
"We strive towards encouraging and supporting efforts to empower employees with the knowledge to maintain healthy lifestyles. This is one of the many health awareness campaigns we intend to initiate to promote employee health and wellness," continued Mr.Mohamed Amiri.
Over the course of five days, the employees will be educated about diabetes and hypertension by representatives of Aster Chronic Care@Home program. They will also receive training on Basic Life Support (BLS) in order to be aware of first aid measures that should be taken in case of an emergency at work or home. These efforts are in line with Aster DM Healthcare's corporate social responsibility efforts to create a positive impact on the lives of the community by improving health literacy and empowering people with the solutions needed to manage their health.
Mr. Mario Pereira, Chief Operating Officer at Aster Clinic, said, "At Aster DM Healthcare, we work to protect and promote the health and well-being of the community at large. Aster Clinic, Ajman is very pleased to join Ajman Bank in organising the first 'Ajman Bank Health Awareness Week' and supporting Ajman Bank's commitment to promote healthier living among its employees. Staying true to the essence of the holy month of Ramadan, Aster Clinic, Ajman and Ajman Bank have come together to give back to the community, because we truly believe that small gestures create big differences. Ramadan is the month of giving and good health is the best gift anyone can receive".
"On behalf of Ajman Bank, I would like to extend our warmest appreciation to Aster Clinic, Ajman for their efforts to conduct such productive sessions for our employees. The response from our employees on the first day has been great and we hope that this campaign will make a positive impact in their lives," said Ms. Fairouza Al Marzouqi, Head of Human Capital at Ajman Bank.
Ajman Bank aims to keep track of the health records of their employees over a period of time and monitor their blood sugar and BMI readings every quarter. As part of their employee motivation, each employee with substantial improvement in their health readings will be awarded a quarterly bonus. The health awareness campaign designed for the employees of Ajman Bank, however will also be accessible for customers in their Sharjah branch.
One of the largest and most widespread networks of clinics across the Middle East, Aster Clinics is a consortium of world-class medical centres bringing quality care to every neighborhood. Putting the patient at the core of its operations, Aster Clinics has developed robust quality standards and enhanced professional expertise to render the most comfortable and satisfying experience.