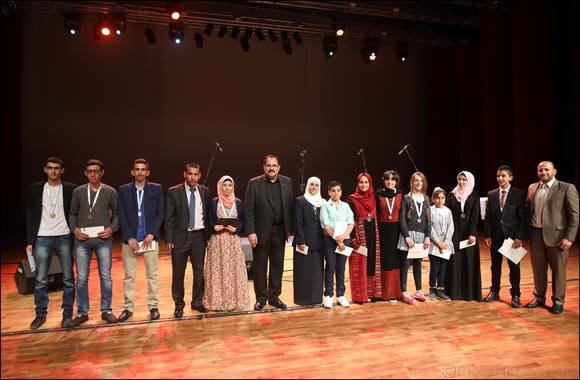 Minister of Education honours ARC participants and winners
Dubai: 9 May, 2017
Arab Reading Challenge (ARC) participants were honoured at a ceremony held under the patronage of the Minister of Education His Excellency Dr. Sabri Saidam at the Bethlehem Convention Palace.
His Excellency honoured Afaf Sharif, the Palestine ARC champion who is in the 11th grade at the New Girls School in Ramallah and Beira in the West Bank, Mr. Hamid Amo Makho, the winner of the distinguished supervisor award, and the winner of the best school Araba Girls Elementary School.
His Excellency stated, "We are very proud of our students, who participated in the Arab Reading Challenge under the unique and difficult circumstances in which they live. These difficulties did not discourage our youth, but rather fueled their desire to read and learn in order to be able to improve their lives and give back to their homeland. In Palestine, we are very proud of our commitment to education, and the exceptional commitment to learning in the face of any and every obstacle."
He continued, "We thanks His Highness Sheikh Mohammed bin Rashid Al Maktoum, UAE Vice President and Prime Minister and Ruler of Dubai, for launching the Arab Reading Challenge, which our children consider an additional incentive in their mission to enhance their skills and knowledge – the challenge has directly contributed to instilling a love of reading in our students."
ARC Secretary General Najla Al Shamsi said, "The Palestinian students' outstanding performance in the first round of the Arab Reading Challenge was memorable – we all remember His Highness Sheikh Mohammed bin Rashid Al Maktoum announcing Talaie' Al-Amal School as the winner of the best school award last year."
Al Shamsi continued, "In the face of the difficulties they face, Palestinian students put in tremendous effort to learn, transforming suffering to hope and challenges to opportunities, and persevering until their dreams become a reality."
His Excellency also honoured all ten student finalists, Osama Majid Saleet (6th grade at Al Karama Elementary School in Jenin), Nada Mohammed Qashqeesh (11th grade at the Halhoul Secondary School for Girls in Northern Hebron), Omar Salem Al Maaita (10th grade the Arab Institute in Jerusalem), Rasha Hassan Khalil (10th grade at Beit Ummar High School in Northern Hebron), Bara' Mohammed Sayed Ahmad (11th grade Majid Abu Sharara School for Boys in Northern Hebron), Taqwa Ezzat Rayan (10th grade at the Karawah Bani Hassan School for Girls in Salfit), Abdulaziz Najwan Salmiya (12th grade at the Islamic Secondary School for Boys in Nablus), Osama Jaafar Eid (8th grade at Jensafo School for Boys in Qalqilya), and sharing tenth place were Hanin Khalil Al Ghafi (5th grade at the Elementary School for Girls in Yatta) and Kinda Mohammed Abu Hishish (7th grade at UNRWA's Fawwar School for Girls).
Over 210,000 students from various grades made it to the second phase of the Arab Reading Challenge; two committees were formed and assessed the participants. Over 400 students made it to the last stages of the competition.
The Arab Reading Challenge was launched by UAE Prime Minister and Vice President and Ruler of Dubai His Highness Sheikh Mohammed bin Rashid Al Maktoum in September 2015. It represents the largest pan-Arab reading project, and aims to promote a sustainable model for reading through an integrated system of student-supervisor follow-ups and support, as well as monetary incentives for students, supervisors and schools across the Arab World. The project hopes to instigate a cultural renaissance in the Arab World by encouraging students to read and continuously expand their knowledge.