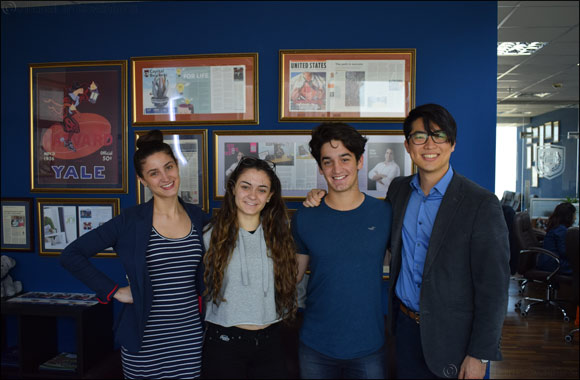 Hale Education Group helped students secure AED 70 Million in two years
Dubai, UAE – 8 May 2017: An exceptional Year 13 student from Dubai College, Despoina Loukos (Denia), was accepted to all 12 US universities to which she applied and secured over USD 670,000 (over AED 2.4 million) in merit scholarships. Her acceptances include Babson College, Emory University and Northeastern University, from which she received the Presidential Scholarship totaling USD 100,000.
In addition to academic acumen, Denia is a dedicated ballet and jazz dancer committing up to 15 hours per week to her craft. She performs weekly Prefect Duty, completed her Bronze and Silver Duke of Edinburgh Awards and acted as a Duke of Edinburgh Leader. Denia is also passionately engaged in community service, regularly volunteering at a local nursery school, acting as a peer mentor for Year 7 and Year 8 students, and serving as head of Dubai College's Social Committee and member of the Charity Committee. She has also spent the last two summers volunteering in Greece at a local hospital and in a Syrian refugee camp.
Denia was mentored through the university application process by the counselors of Hale Education Group, a UAE-based consultancy focusing on US university admissions. 137 US universities accepted Hale students from the region; five candidates' applications to Ivy League universities were successful including two to the prestigious Harvard University. This achievement is unmatched in the GCC and a testament to the caliber of the students here in the UAE.
Peter Davos, Founder of Hale Education Group, comments, "Denia has achieved an incredible, well-deserved set of acceptances and scholarship offers. While our students cumulatively received over 70 million Dirhams in merit scholarships over the last two application cycles – with 100% of students seeking merit aid, receiving it – Denia exceeded even our own very ambitious expectations and we wish her all the best at Northeastern in the fall. We are confident she will make a tremendous impact on her new academic community in Boston."