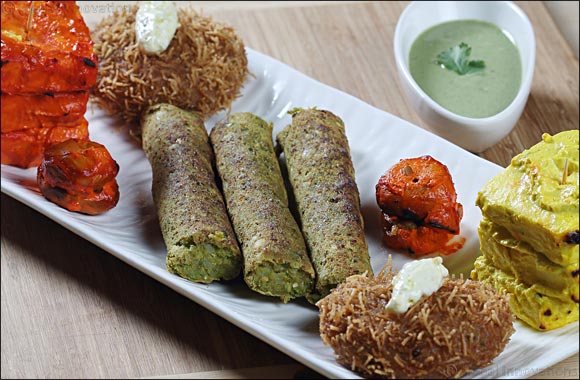 Punjabi By Nature, a Punjabi cuisine restaurant located in the heart of Oud Metha, introduces a special Iftar dinner for the holy month of Ramadan
Priced at AED 59, the restaurant caters to a variety of taste buds with a new menu every day of the week throughout Ramadan
Punjabi By Nature also provides free home delivery during the day
Dubai, United Arab Emirates, May 7th, 2017: Punjabi By Nature, an authentic Punjabi restaurant located in Oud Metha, introduces its Iftar dinner menu for the holy month of Ramadan. The Iftar menu is set to host a wide variety of mouth-watering vegetarian and non-vegetarian dishes with dollops of pure butter and ghee. Chef Vineet Kumar has created a menu that includes appetizers like Papdi Chaat and Bhatti Da Murg, main courses like Chicken Tikka and Fish curry and some delectable deserts like Mango Shrikand and Gulab Jamun. The complete menu is a blend of flavorsome dishes for everyone which will be served throughout the month of Ramadan. The restaurant also offers free home delivery during the day via call or website.
Sharan Kakwani, Founder, Punjabi By Nature, said, "We have created a special Iftar buffet keeping in mind the holy month of Ramadan, with a menu that's refreshed for every day of the week. The menu includes a variety of delicacies that will remind you of the delicious food your 'pind' shared with you back in Punjab. From our revered Chicken Tikka Masala to Dal Makhani, Punjabi by Nature is trying to cater to different palates, all while providing great taste at affordable prices."
From scrumptious cottage cheese with spices created in-house, to curried chicken and rich Indian desserts, Punjabi By Nature narrates the story of Amritsar before the partition of India. Nirvi Gosalia, Co-founder of Punjabi By Nature, said, "We wish everyone a blessed Ramadan Kareem. For the holy month, we've created an Iftar menu for residents of Dubai to rediscover the taste of home-cooked food away from home in a cozy, family-oriented environment. Our buffet menu is quite unique, and we have Chef Vineet Kumar to thank for this, which includes assortments of appetizers, main course, a special kind of biryani and desert for each day of this month. We would not only like our visitors to enjoy the meal but also feel welcomed to the restaurant and have a good time celebrating the festival with families."
The Ramadan menu is priced at AED 59. Discover a truly Punjabi Iftari only at Punjabi by Nature.