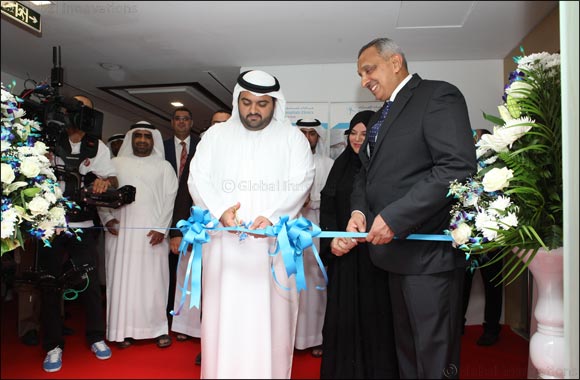 FUJAIRAH – May 5, 2017: Emirates Hospitals Group, a leading healthcare services provider in the UAE, has opened its well-known brand Emirates Hospitals Clinics in Fujairah, aimed at addressing the gap of quality care for residents in the emirate. The clinic was inaugurated by His Highness Sheikh Mohammed bin Hamad bin Mohammed Al Sharqi, Crown Prince of Fujairah.
Strategically located in the FEWA Building on Sheikh Hamad Bin Abdulla Street in the heart of Fujairah, the state-of-the-art family clinic is the latest addition to Emirates Hospitals Group's growing number of healthcare services focusing on personalized services, convenience and care. The new clinic is part of the Group's ongoing mission to expand its reach further in the UAE and beyond offering quality care to the residents.
The Emirates Hospitals Clinics – Fujairah will meet expectations of the residents to avail primary healthcare services and family-oriented specialties in a superior ambience. The facility offers international standard healthcare in a modern, efficient and relaxed environment.
Mr. Pramod Balakrishnan, CEO of Emirates Hospitals Group, said, "We are pleased to enter into Fujairah with the modern medical facility, which will add significant value to the healthcare delivery system in the emirate. Our centres offer premium facilities that make them one of the finest healthcare providers in the UAE. As per our strategic plans, we hope to open more clinics at various locations across the UAE to deliver high-quality and patient-focused healthcare."
"Our vision is to expand the unique healthcare system by developing world-class healthcare infrastructure, expertise and services matching with international standards across the UAE. In the next couple of years, the chain of clinics will grow its visibility and reputation manifold catering to the premium segment of the UAE population. With the launch in Fujairah, we hope that we will be able to fulfil requirement of the residents for a clinic of excellence in the emirate," he added.
The Emirates Hospitals Clinics in Fujairah has lined-up a group of dedicated experts comprising only of board-certified specialists and medical professionals in a variety of disciplines -- ranging from Internal Medicine, General Surgery, Obstetrics and Gynecology, ENT, Radiology, Orthopedics, Pediatrics, Dentistry and Pathology. The facility also provides spacious consultation and procedure rooms, observation unit, imaging and diagnostic lab services including x-rays, ultrasound, mammogram, TMT, ECG, colposcopy and audiometry.
The panel of specialist doctors on board at the Emirates Hospitals Clinics in Fujairah includes
Dr. Kadhim Fahad Thahab – Internal Medicine specialist, Dr. Yousuf Bakkar - Consultant General Surgeon, Dr. Souzan Ahmed Zanboua – Specialist Obs & Gynecology, Dr. Tushar Rohankar – Specialist Orthopedic Surgeon, Dr. Devendra Chikara – Specialist ENT and Dr. Sherif Ibrahim Bakir - Specialist Pediatrician, Dr. Hela Baccouche – GP Dentist, Dr. Nisha Sushil Lalwani – Pathologist, Dr. Dilip Mundhada – Rediologist
The Emirates Hospitals Clinics in Fujairah, functional six days a week from 9am to 9pm.